At the end of the year I like to sit down and make a rather random list of the "best" things I've seen that year. I do this almost entirely from memory but I also peruse my browser history and look through my Unmark archive in order to uncover some of the things I appreciated throughout the year.
You can review previous years: 2008, 2009, 2017, 2018.
At the tail end of December I sat down and made this list and since then I've taken some time to cull through it and make the list you're reading now.
Best Blog: Gurney Journey by James Gurney
James Gurney, who I interviewed for The Watercolor Gallery, has kept a blog for a very long time. This past year wasn't necessarily a stand-out year for his blog - it has always been very good - but I believe his blog and his YouTube channel deserve recognition this year.
Runners up: Waxy's links, Kottke as always.
Best (new to me) Blog: AOWS
Since I've really been going all-in on my photography this year I've stumbled across a lot of photographers. In fact, I'm well over 100 photographers on my private Photography Twitter list (I'm @cdevroe there). I'm very glad to have found AOWS. See also the Instagram account.
Runner up: Chris Sale.
Best place: Kentucky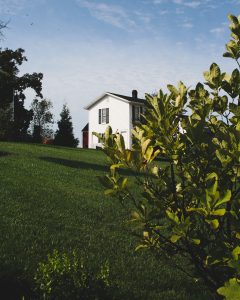 Jim Beam Distillery
Last year I said that we'd likely return to Kentucky and we did - that must say something about it. We enjoy the entire state, the distilleries, horse farms, and rolling hills. See posts.
Runner up: Cape Cod - This was our first trip to Cape Cod and I enjoyed the whole feeling there. Likely because so many people are either retired or on vacation. I'd like to go back and make more photographs in the future.
Best book: Dark Matter by Blake Crouch.
I didn't read nearly as many books as I'd like this year. But I'm trying not to beat myself up when I miss self assigned goals like number of books to read. I did a lot of fishing, photography, and even started a podcast this year. So I need not read books.
Dark Matter was a nice change of pace from other things I'd read this year. I always like a book that has time jumping. And this book sort of did.
Best service: OneDrive
I can't believe I'm writing this, but OneDrive - for the most part - holds up very well for my needs. I have nearly half of a terabyte stored there and it isn't skipping a beat. I use it mostly as a cloud-based backup of all my photos and videos. I also use it to transfer things to/from my computer and phone which worked well when I was on so many different platforms; Android, Windows 10, iOS, and Airdrop wasn't possible.
Runner up: Disney+ just for The Mandalorian.
Best song for working: Morning of - Colin Stetson
According to Spotify I listened to this song, and the album it comes from, a lot while I was writing code.
Best album: Benton County Relic - Cedric Burnside
Love the old style jazzy/bluesy feel of this album.
Best company: Disney
I wrote a bit about what they've done with Lucasfilm since they acquired the company. But, when you look at the scope of Disney - and watch some of their documentaries about how it all came together - they really deserve a round of applause this year.
Runners up: Microsoft is still killing it and I think 2020 looks interesting for them. Apple for finally fixing their laptops.
Best hardware: Canon 400D
Me w/ 400D, recording my podcast
I shot nearly as many photos on this camera as I did on my phones (Pixel 2 XL until October and then iPhone 11 Pro Max) and the camera is 13 years old. It is rugged, has a lot more features than I ever knew it did, and I'm satisfied with the results I've been getting.
I have the feeling that next year a film camera may win this category and I'm very excited about that.
Runners up: iPhone 11 Pro Max - the battery life alone deserves an award, iPad Pro - I still use this every single day, in fact I'm writing this post on it right now and I'd say I do greater than 75% of my photo editing on the iPad.
Best desktop app: Firefox
Rather than keeping Firefox in just the browser category, I'm going to give it the best desktop app award. I really, really like Firefox and it has improved greatly this year in terms of speed, privacy, feature set. I simply cannot live without Containers at this point.
Runner up: Lightroom CC.
Best mobile app: Anchor
If it weren't for how relatively easy it is to create a podcast using Anchor I don't think I would have done it. Though I am looking forward to my podcast getting a bit better with some desktop-based editing apps. If you have an idea for a podcast I suggest at least giving it a look.
Runners up: VSCO, Twitter, Pocket Casts, Cash.
Best tool: Photoshop CC
Adobe has made very big updates to the entire CC suite of apps. I feel like they deserve a nod as a result of that.
Best podcast: BirdNote
The podcast is just so simple. I love it.
Runners up: ATP. I go back and forth on whether or not I should listen to ATP. Very good information, they were even nice enough to answer one of my questions, but the constant hypercritical (see what I did there?) take on things can sometimes be draining, and so I take long breaks from listening. But that is the entire point of the podcast so I don't begrudge them of the style. I just always try to look at things positively is all. Also Cal's Week in Review.
Best YouTube channel: Nick Carver
Nick has easily has the largest impact on my approach to photography this year. His channel is also very entertaining even when he's discussing very nerdy photography topics.
Special second place: Joe Rogan Experience - I have to cherry pick episodes that I'm interested in, mostly with scientists and outdoorsy people, but the interviews and long form style are refreshing compared to the bit-sized bits we get through TV these days.
I watch a lot of YouTube. Probably too much. Not probably. Actually too much. It is how I learn, am entertained, waste time, etc. In fact, I watch a lot less TV because of YouTube. So this isn't an easy category to choose.
Runners up: Morten Hilmer, Jack Black, MKBHD, Kevin Nealon, Rainfall Projects, The Lion Whisperer, Zimri Mayfield.
Best Twitter account: Todd Vaziri
Behind-the-scenes and background information on special effects in TV and movies. Fascinating stuff. The amount of work for just a few seconds of video is amazing.
Runner up: Adam Savage.
Best Instagram account: Luke Beard
Luke shares a ton of photos via Stories from his town of Atlanta. It is inspiring the number of photos he's able to take, process, and publish and has really gained a following in that area. He's also super gracious in his responses whenever I've asked him how he did something.
Special second place: captain.solo - I can always appreciate when someone creates their own style and sticks to it - it isn't easy to do either of those things. This account has.
You can also follow @cdevroe on Instagram where I frequently share accounts and photos I like via Stories.
Runners up: Dan Rubin, PPP Repairs, Clyde Butcher, Brad Baldwin.
I hope you enjoyed this year's list. Whenever I sit down to make the list I always under estimate the amount of time it takes to create it. But I'm always glad that I do so that I can look back on it in the future. So this post is more for me than for you.