Cypress – A portfolio theme for WordPress & Micro.blog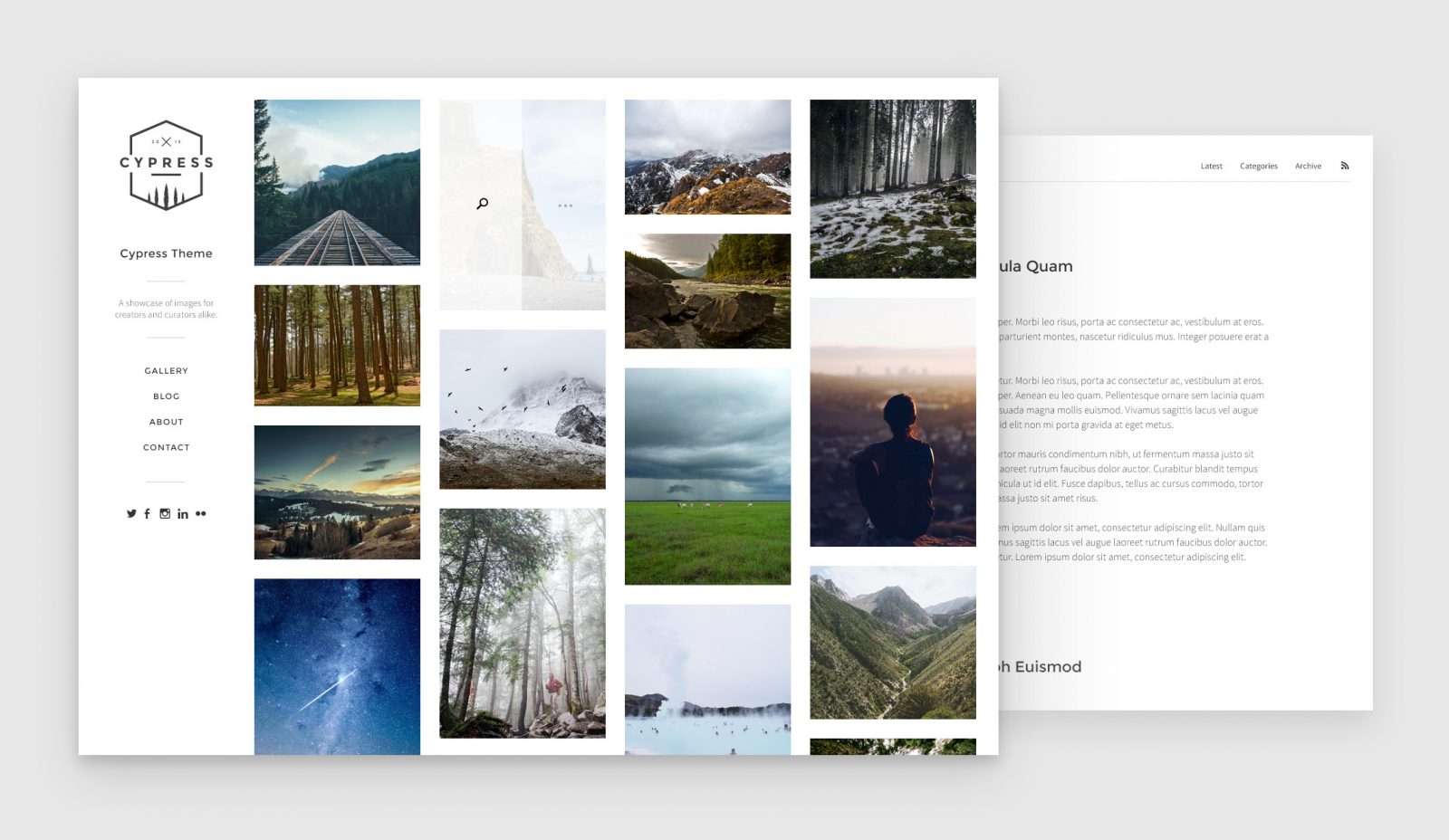 This is not a subscription. It is a one-time payment per website.
Cypress is a premium WordPress & Micro.blog theme for creatives to showcase their work. Artists, photographers, designers will love setting up their homepage to show their best work. This theme also includes a full-featured blog for writing about your process. Simple, fast, and easy to use.
All custom code is GPL. All updates including new features and bug fixes will be free forever.
Micro.blog members: Cypress is available for free to Micro.blog members in Design settings. If you use and like Cypress on Micro.blog please consider donating to support Cypress' development.
Theme Features
Responsive design
Portfolio Post Type – WP
Blog
Customizable social icons
Gutenberg support
Custom footer message
Post Format Support – WP
Microformats
DARK MODE
How to setup Cypress on WordPress
Version History
2022.1.0 – Released: March 3, 2022
Adjusted: Portfolio pieces now fixed width to show images better on larger displays.
Fix: Several fixes for layout on mobile.
New: Added code to suggest a lightbox plugin on installation.
Fix: Links in portfolio pieces are now underlined.
2021.9.0 – Released: December 9, 2021
New: Social icon support for Flickr, GitHub, Mastodon TikTok, and YouTube added (already supported Facebook, Twitter, LinkedIn and Micro.blog).
2021.8.0 – Released: April 28, 2021
Fix: Sidebar widget styling issues
New: notebookindex shortcode copied from Piper Haywood
2021.7.0 – Released: April 19, 2021
Fix: Mobile menu duplication
Fix: Removed tap on mobile for portfolio items
Fix: Adjusted size of logo on mobile
2021.6.0 – Released: April 7, 2021
New: Captions with links now have underlines
New: Image counts on portfolio grid
New: Option to turn on/off image counts
2021.5.0 – Released: April 5, 2021
New: Comment number now appears on indexes on Mobile
New: Portfolio category template
New: Option to turn off/on header on frontpage
Fix: Sidebar scrolls vertically on smaller non-mobile screens
Fix: Updated theme screenshot
2021.4.0 – Released: March 17, 2021
Fix: Responsive images on Portfolio items including multi-column layouts
New: Responsive video embeds
Fix: Microformats u-url added
2021.3.0 – Released: March 17, 2021
Fix: Double borders on search indexes
Fix: Fixed several issues for WordPress Theme Checker requirements
New: Support for WordPress sticky posts
New: Basic support for Widgets in sidebar
New: Better multilingual support
2021.2.0 – Released: March 12, 2021
Fix: Comment count bullets on archive and search pages
Fix: Site description heavier font weight
New: Published date title attributes now show time of day when hovered
New: Basic microformats support for h-feed,h-entry
Fix: Text alignment on portfolio items
Fix: Search added to portfolio items
2021.1.0 – Released: March 4, 2021
This is the latest release and is the initial public release.
In collaboration with Kyle Ruane.