After a few weeks of trial and error, (lots, and lots of error) video tutorial binging, manual devouring, and literally swimming for and losing my first UAV, I thought it might be good to jot down some tips for new drone owners.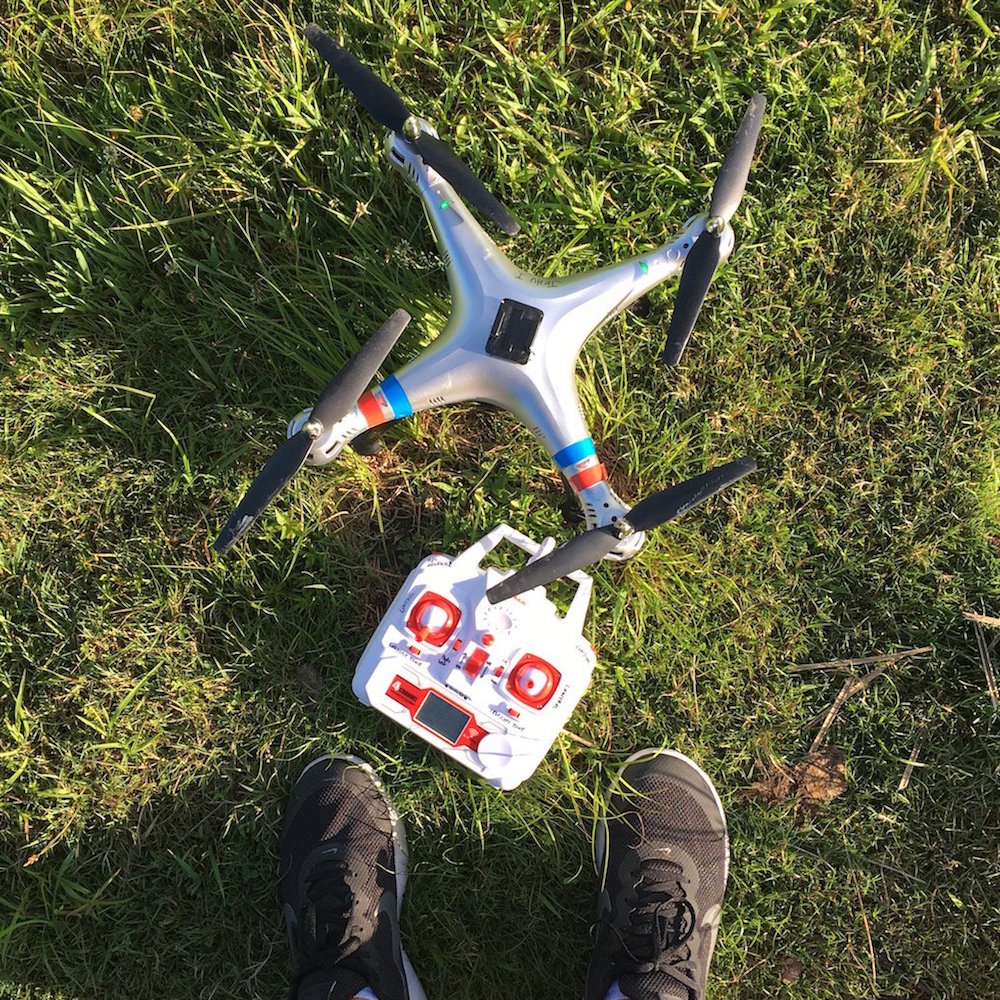 So here they are, in no order, but all worth considering:
Fly over shallow water - If you are going to fly over water, fly over shallow enough water that you'll be able to rescue your UAV should it take a dip. I was able to rescue my drone in 8 feet of water, but I wasn't able to rescue it in 30 feet of water. Or, buy something like this.
Keep and read the manual that comes with your craft - You may not understand the lingo the first time you read it. But after a few weeks you'll know what yaw, headless mode, pitch, m/s, and many other terms mean and this way you'll understand the manual more each time you review it.
Search for your model on YouTube and watch other people fly - Some people have taken the time to record great tutorials on flying your particular model and you'll be very glad they did. You'll learn a lot by watching other people fly.
Fly in a huge, huge open area if you can find it - The bigger and flatter the area the more you can safely explore and make mistakes. You can make two, three, four or more flight corrections in a large area and you won't hurt yourself, your craft, or any property.
Practice, practice, practice - Do the same exact maneuver over and over and over. When it comes time to use that skill your brain will just do it. Here is an example... watch this video. It is boring. Practice can be boring.  It is OK. It is worth the effort.
Immediately buy more flight time - If you've recently purchased a craft and only have access to the battery that comes with it... find some batteries for your craft on Amazon or eBay and buy them right now.
Buy replacement parts before you need them - If your craft didn't come with replacement blades, legs, etc. just go on eBay right now and buy some. You may never need them but they are so inexpensive it is worth having them around. And you'll want them to be handy when you need them.
Controllers need power too - Don't forget to keep back up controller batteries with you at all times. Nothing worse than a full craft battery and drained controller batteries.
Flying in the morning is easier - Wind is generally down in the early morning hours. So if you want to fly over a body of water for the first time, morning is the best time to do it.
If there is a steady wind, fly into it, not with it - By flying into the wind you can safely return your craft by simply guiding it rather than fighting it. Also good when your battery is getting low.
I'm sure I'll be adding to this list over time. If I do, I'll make a note of the newer tips.
While I have you reading this, here are some general tips for shooting video with your UAV if you're into that sort of thing.
High flying videos are cool, but so are low flying ones - Don't concentrate solely on getting the highest footage that you can. Low and slow can be just as dramatic.
Use the sun to your advantage - Magic hour is great for video too. Face away from the sun to have the best naturally lit subjects... face into the sun to get that JJ Abrams lens flare.
Fly the same route more than once - Trying to capture a scene? Do the same route more than once to ensure you got the shot you want.
Record a bit more than you need - Don't try to "edit in the camera". You can edit the footage later. Bookend what you think you need with 10 seconds of padding.
Slow, smooth - It is very rare that you need really fast video. Slow and smooth wins the day. So keep the corrections to a minimum.
It isn't just about the gear - Photography has a saying "the best camera is the one you have with you". Same goes for video. Gear is important, but it isn't as important as your creativity and diligence to get what you want.
Happy flying!