Nearly a decade ago Eliza and I began to make our own wine and beer. We started out making quick batches in buckets, carboys, or other small containers. It allowed us to get more familiar with the process of fermenting fruit or barley into one of our favorite drinks.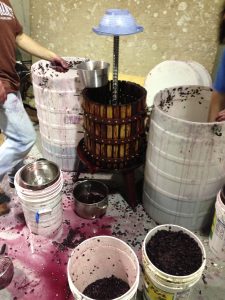 Pressing grapes, 2013
Eventually we graduated to making a more serious batch of wine that started as grapes still on the vine that were shipped by boat from Chile and ending up as 80 gallons of a Cabernet Sauvignon / Carménère blend that - to this day - is the best wine we've ever made or had.
When we began to learn this process it gave us a deeper appreciation for other wines and beers we had. We started to understand what each ingredient, what each stage, the temperature, and many other factors played into the end result. We also honed our tastes in so far as to know, without ever having a sip, what beverages we liked and didn't like.
The process of learning to make wine feels very similar to the process of learning film photography.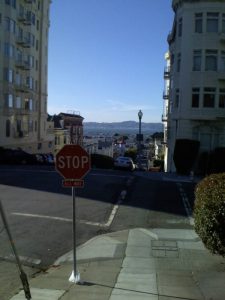 San Francisco, July 2007
One of the first photos I took with the original iPhone
I've been shooting digital images for many years. I've always had an interest in making photographs as memories of our experiences, as well as an outlet for my creativity. But it wasn't until the iPhone debuted that I began to explore photography as an art medium. Or as a documentary medium for that matter. With the iPhone I would have a camera with me everywhere I went and I ended up taking tons of photographs with my mobile phone for the next decade. Which led to me taking photographs with other digital gadgets like GoPros and drones.
A few years ago though I began to study photography. Looking up its history, looking at examples from the last hundred or so years, and trying to learn different techniques. Prior to this time period I only had very surface knowledge of the photographic process - digital or film. I knew the basics of composition and how an image sensor worked. Apart from that I had no idea.
For whatever reason, the desire to try film - like the desire to make our own wine - became stronger and stronger. I started to follow film photographers on Instagram, Twitter, and YouTube. People like Dan Rubin, Bijan Sabet and a few others were nearly daily reminders that I should give it a try. Which ate at me for over a year. Then, about 6 months ago or so, I stumbled across Nick Carver on YouTube. What he was doing with film photography was much different than Dan or Bijan - he was trying to create the highest quality digital file and print he could from a scene. This interested me greatly.
My current digital cameras are already over 10 years old (not counting my current iPhone 11 Pro Max). So my ability to create high quality images on digital is non-existent. Looking at film it appeared to me (knowing almost nothing) that I'd be able to get a much higher quality result without the budget needs of upgrading my digital cameras. It turns out I was only part right on this.
So, as you may have listened to in this episode of my podcast, I decided to pick up a few inexpensive point-and-shoot cameras to get my journey started in film. That was four months ago. I figured I'd buy a camera or two, fire a few rolls, see what the results were and learn. Little did I know the rabbit hole or the ride I'd be on over the next several months - and likely for the rest of my life.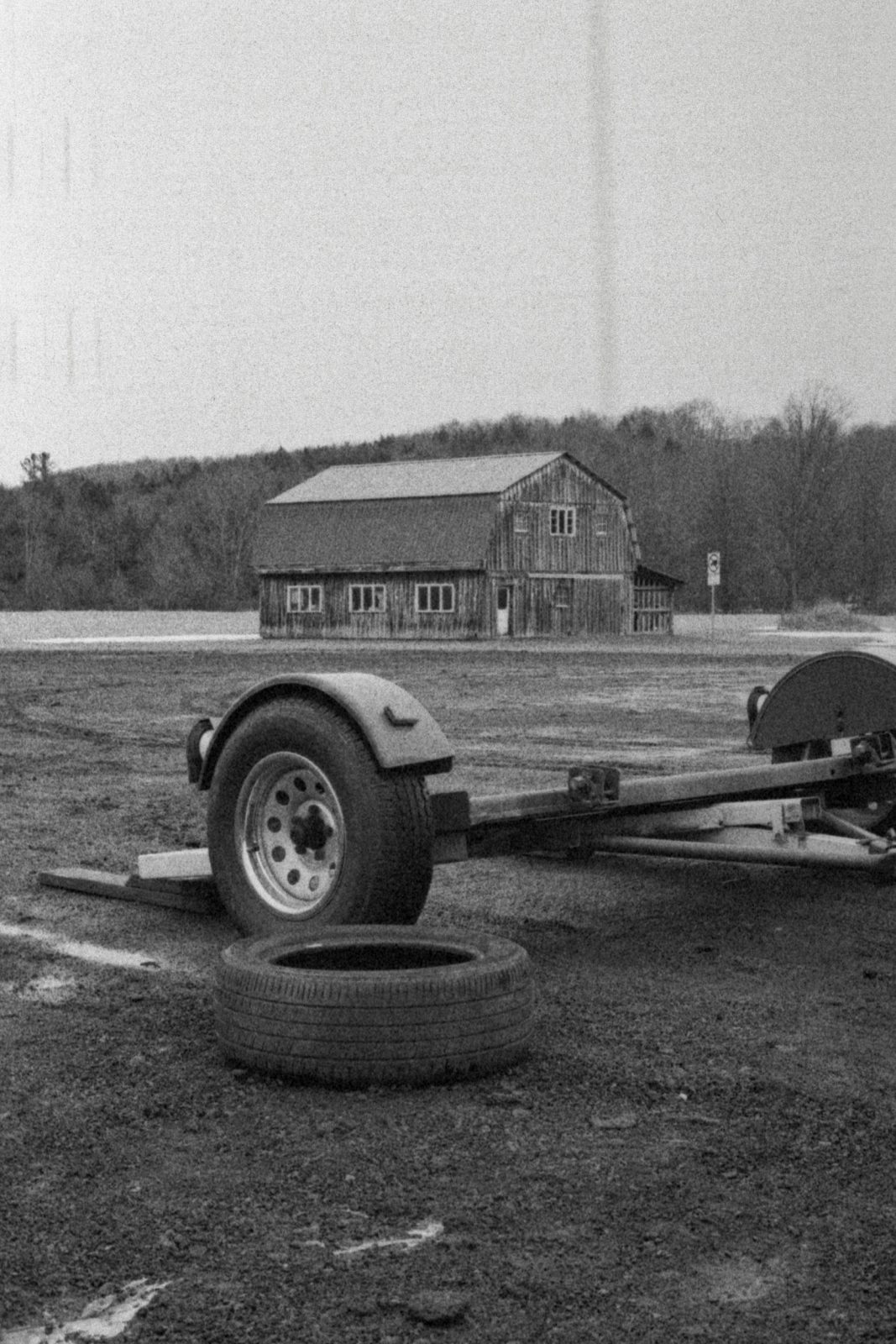 One of my first exposures
Canon AE-1 Program, Kodak Tri-X expired in 1982
Since then I've purchased, or been gifted, well over a dozen cameras ranging from point-and-shoot 35mm film cameras to 100-year old medium format cameras that no longer have film compatible with them. I've read a few books on the history of photography as well as the complete photographic development process. I've shot dozens of rolls of film and developed them on my own, either in my kitchen sink or in my bathroom tub. In fact, I never sent away a single roll to be processed by someone else. I've even modified existing film stock to fit into that 100-year old camera.
I went a little off the deep end in an effort to give myself a crash course in film photography.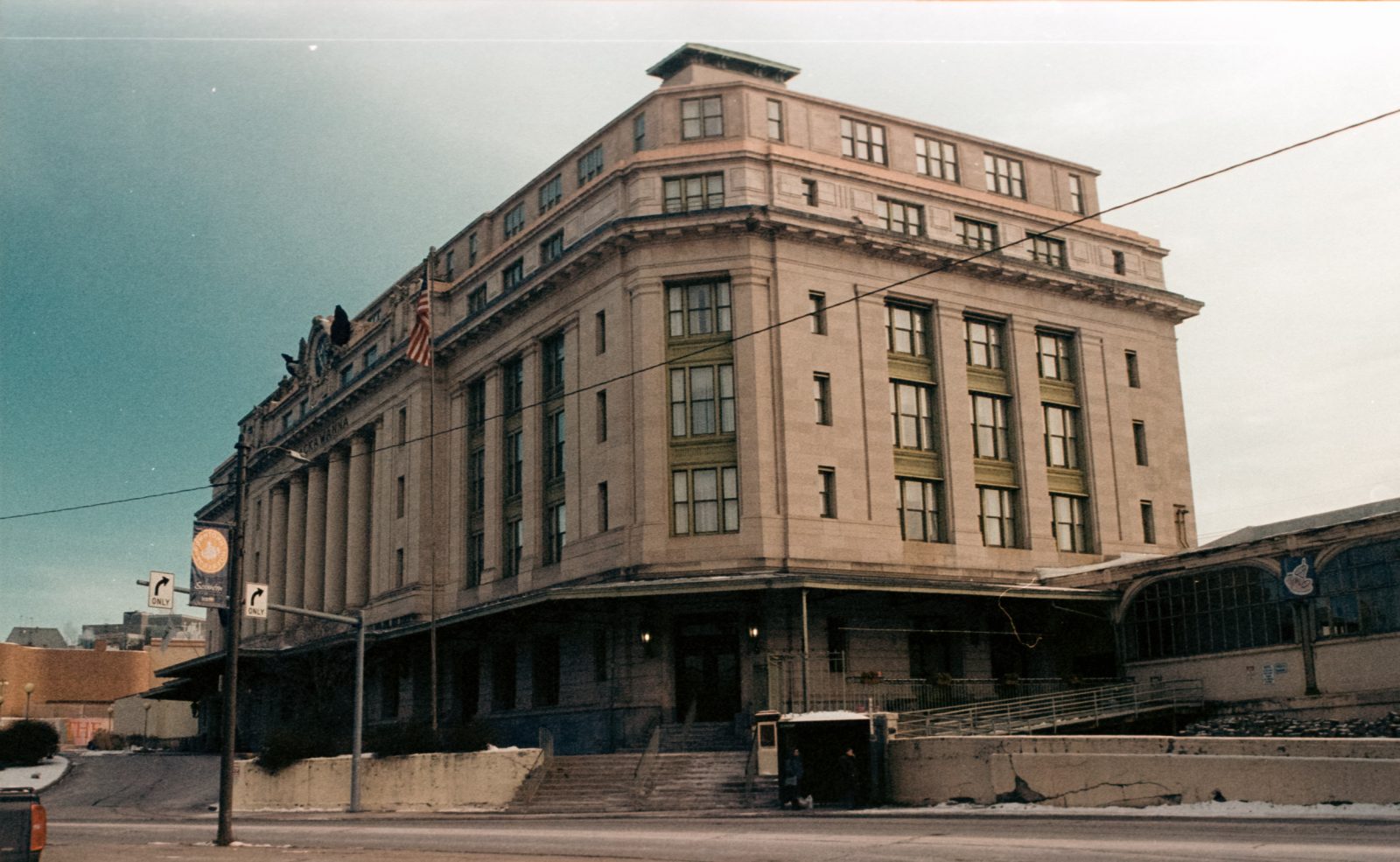 Radisson Station, Scranton PA
Canon Rebel G, Kodak Color Gold 400 expired in 1982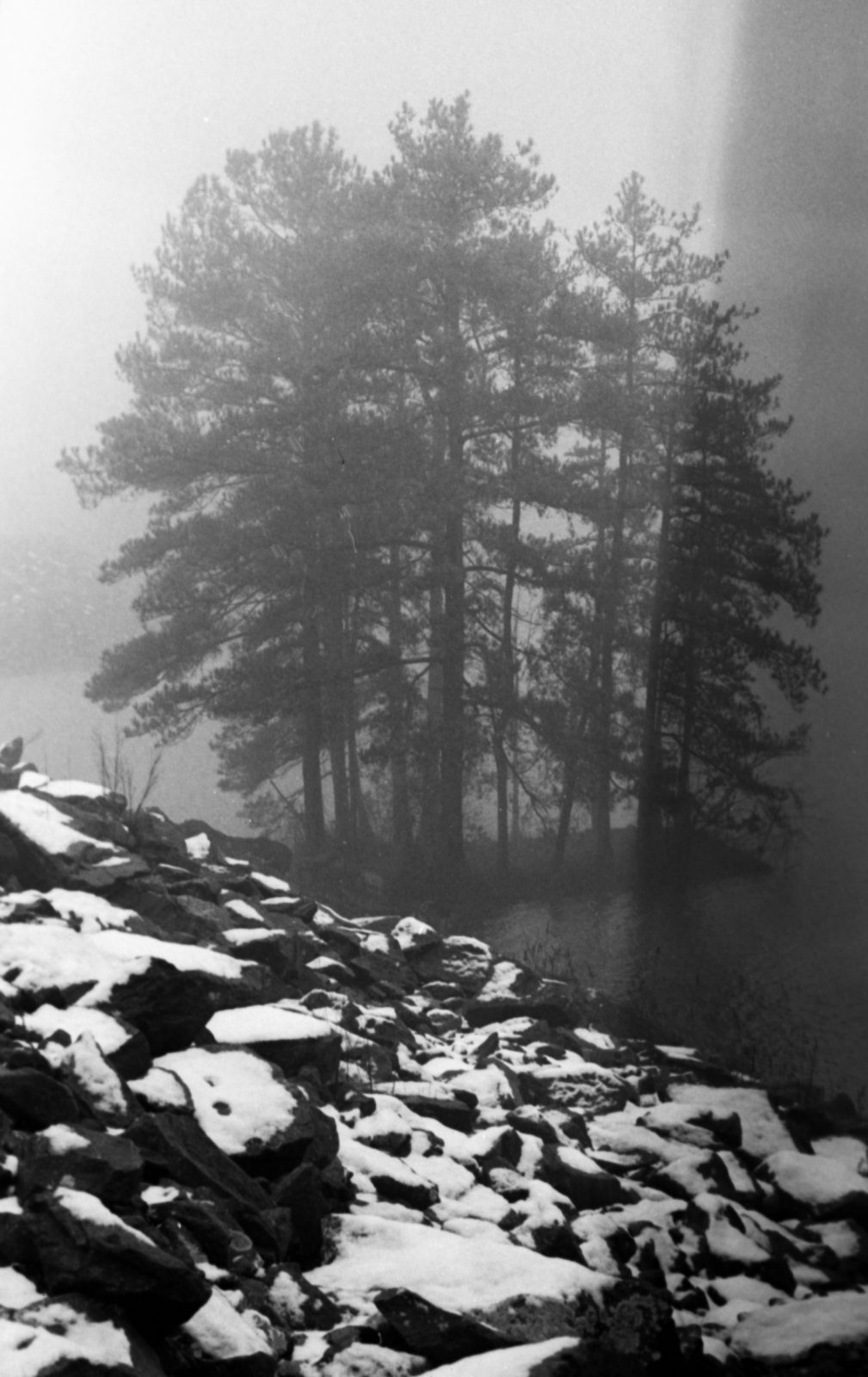 Lake Lanier Georgia
Canon AE-1 Program, Kodak Color Gold 400 expired in 1983, converted to mono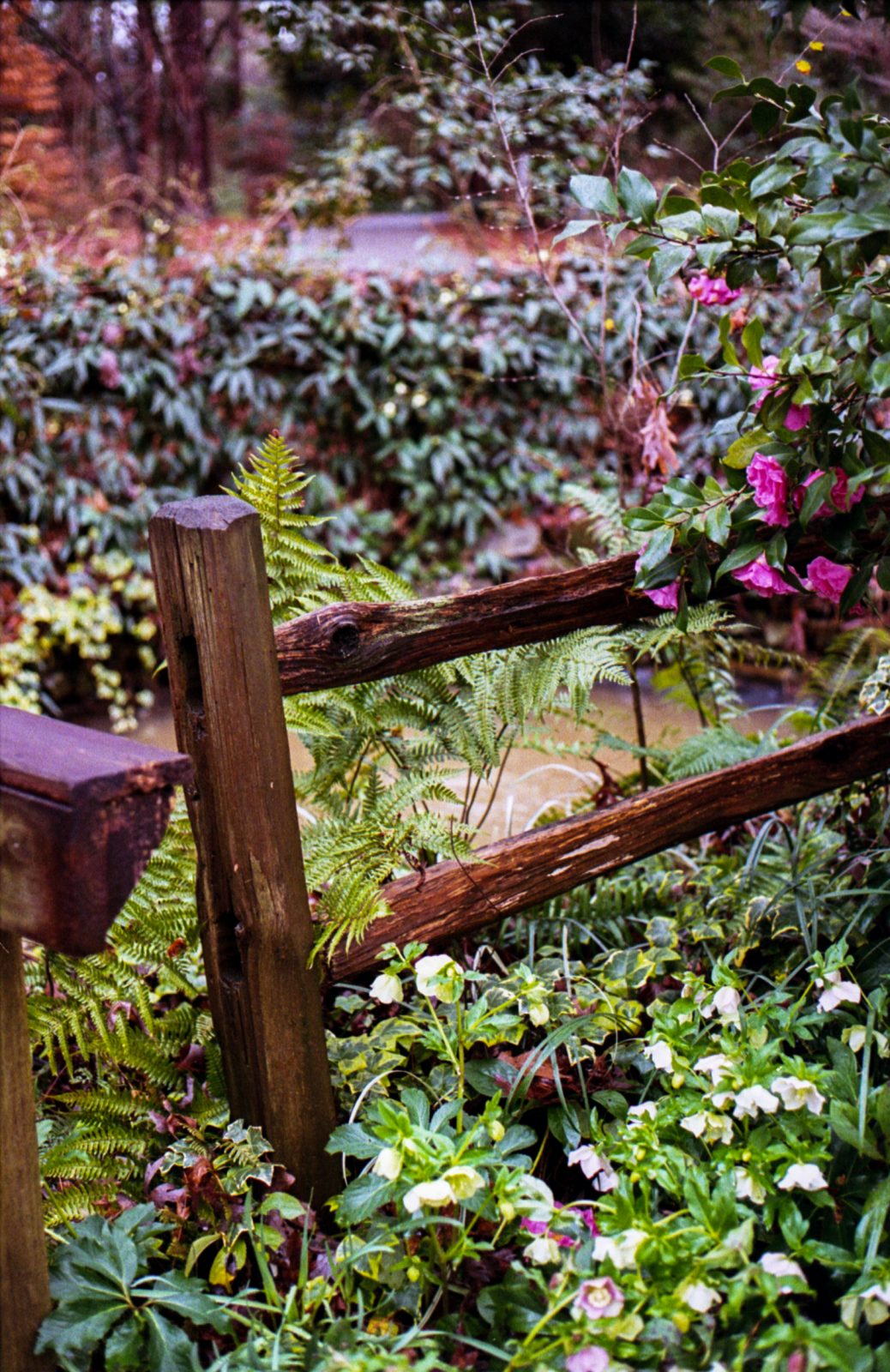 Garden fence, South Carolina
Canon AE-1 Program, brand-new Kodak Color Gold 400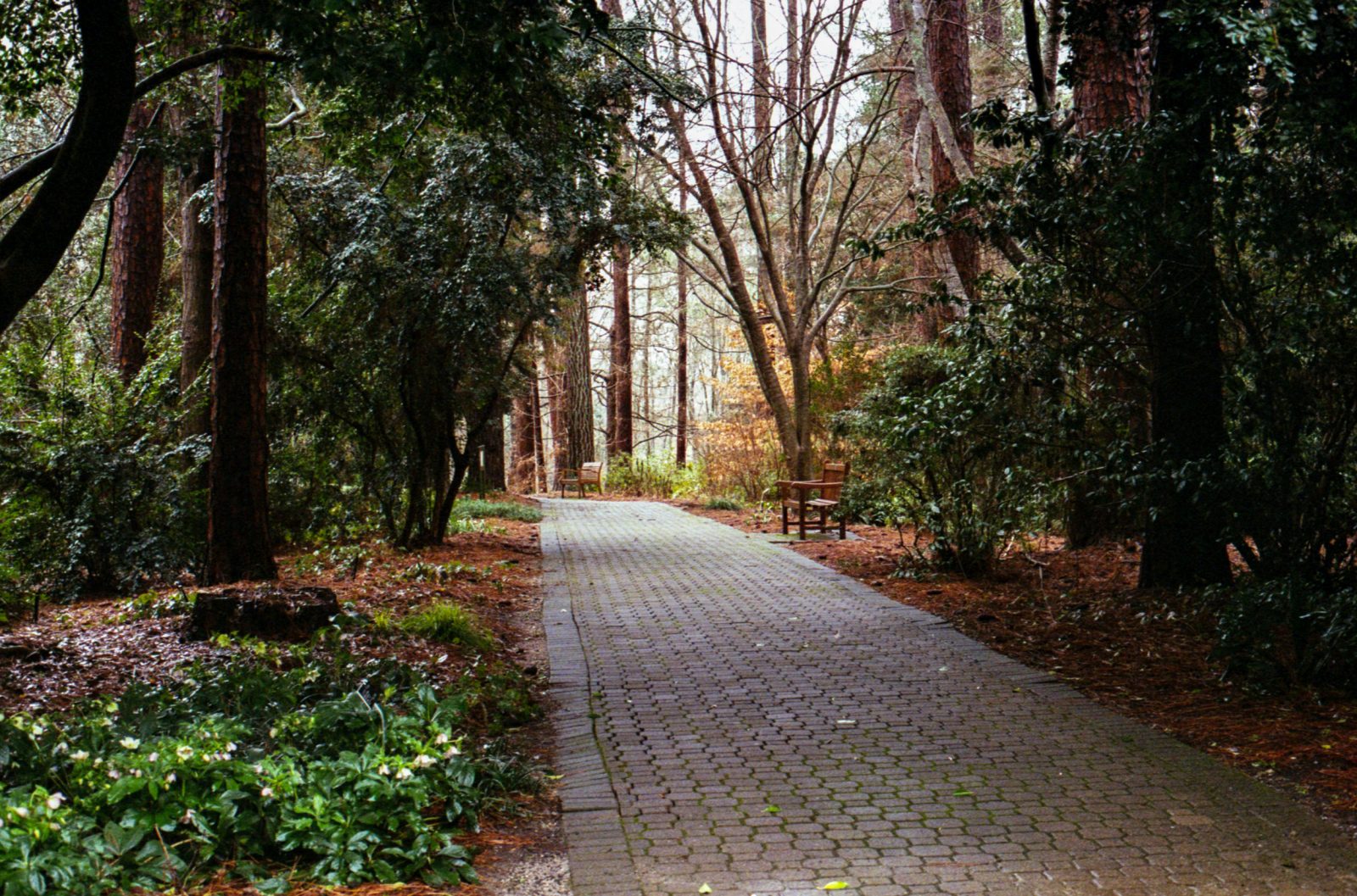 Garden path, South Carolina
Canon AE-1 Program, brand-new Kodak Color Gold 400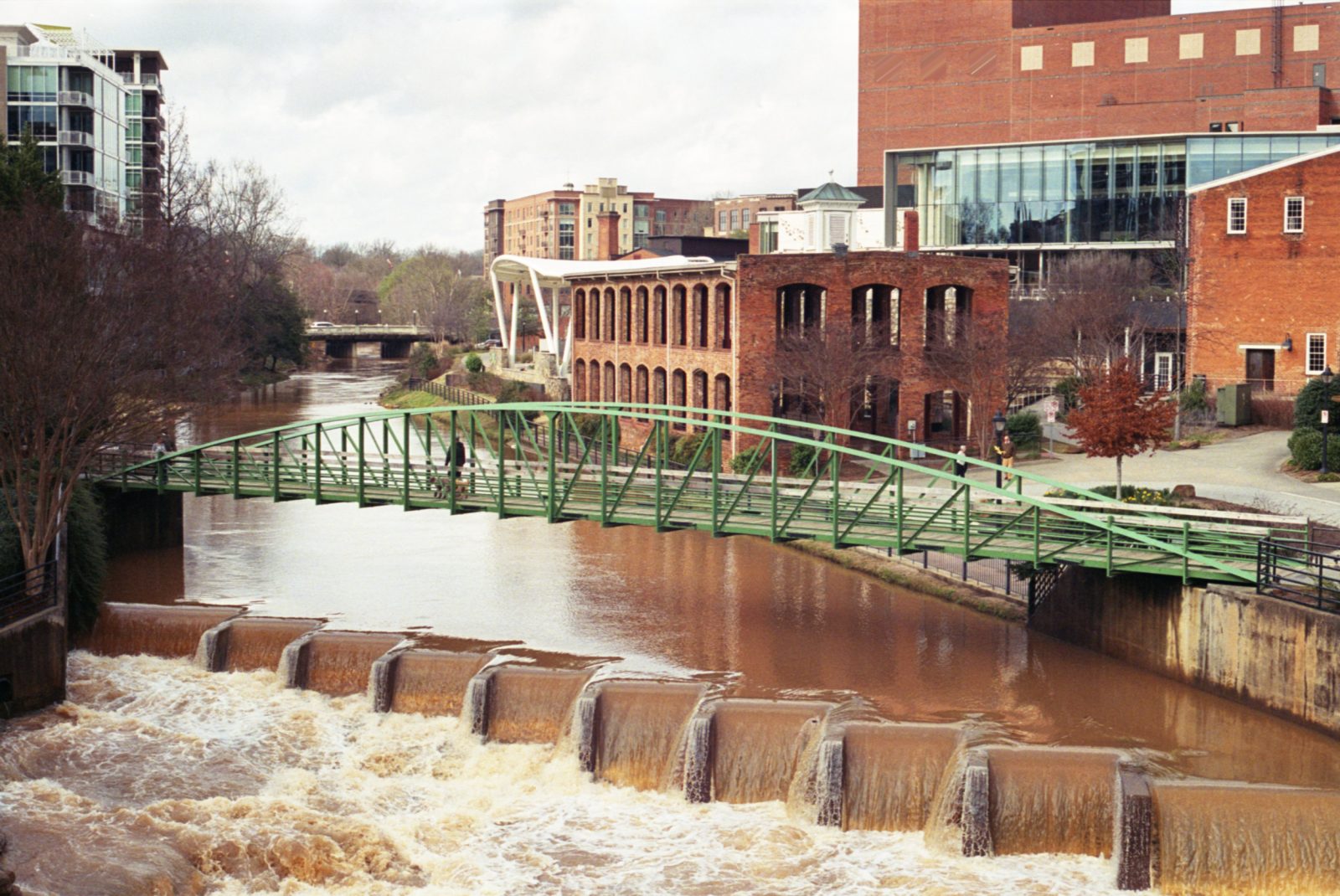 Reedy River, Greenville, South Carolina
Canon AE-1 Program, brand-new Kodak Color Gold 400
I still have a long way to go and a lot more to learn. I still haven't created a high quality result that I'd be happy with for, say, a fine art print like Carver's work. But I haven't tried yet either. Most of the film I've shot, with the exception of 3 brand-new rolls of inexpensive Kodak Color Gold 400 (or Ultra Max) that I purchased in an Atlanta camera shop, has been film that is well past its expiration date. In fact, some of it didn't work at all. Also, the cameras I've been using all have their little quirks. One doesn't have a battery (so I have to meter for light using my iPhone or just guess). It also has moisture in the viewfinder so I can't focus the image so again I'm left guessing. And the rest has been downright bad film.
Why go through all of this? Because it has cost me almost no money so far. All in I've spent less than $500 to shoot film for 4 months on many different setups with different speed films and process them all on my own. I consider this a very inexpensive education so far.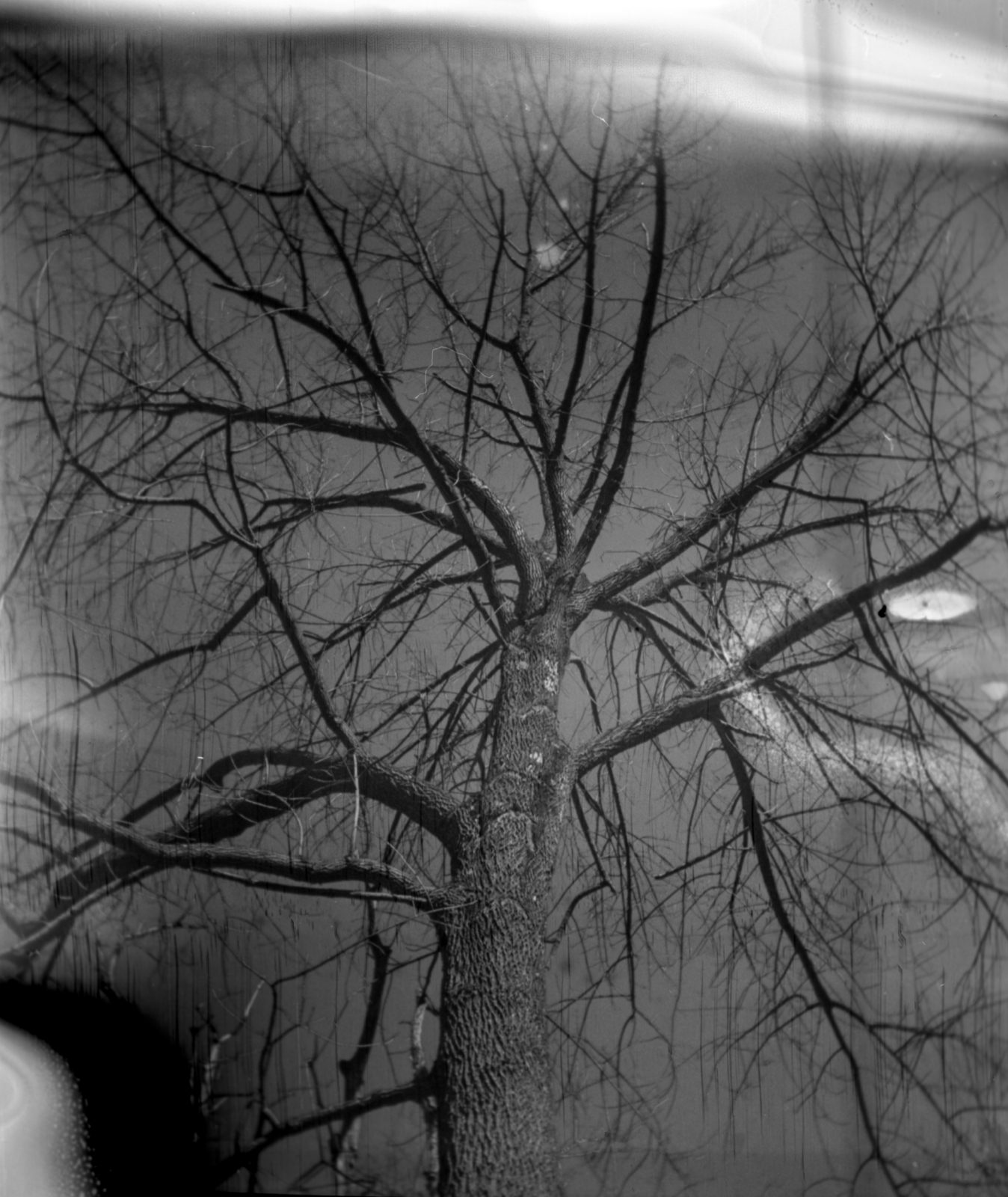 Tree, medium format
Ansco Rediflex 1920s, Kodak Tri-X 120 400 expired in 1982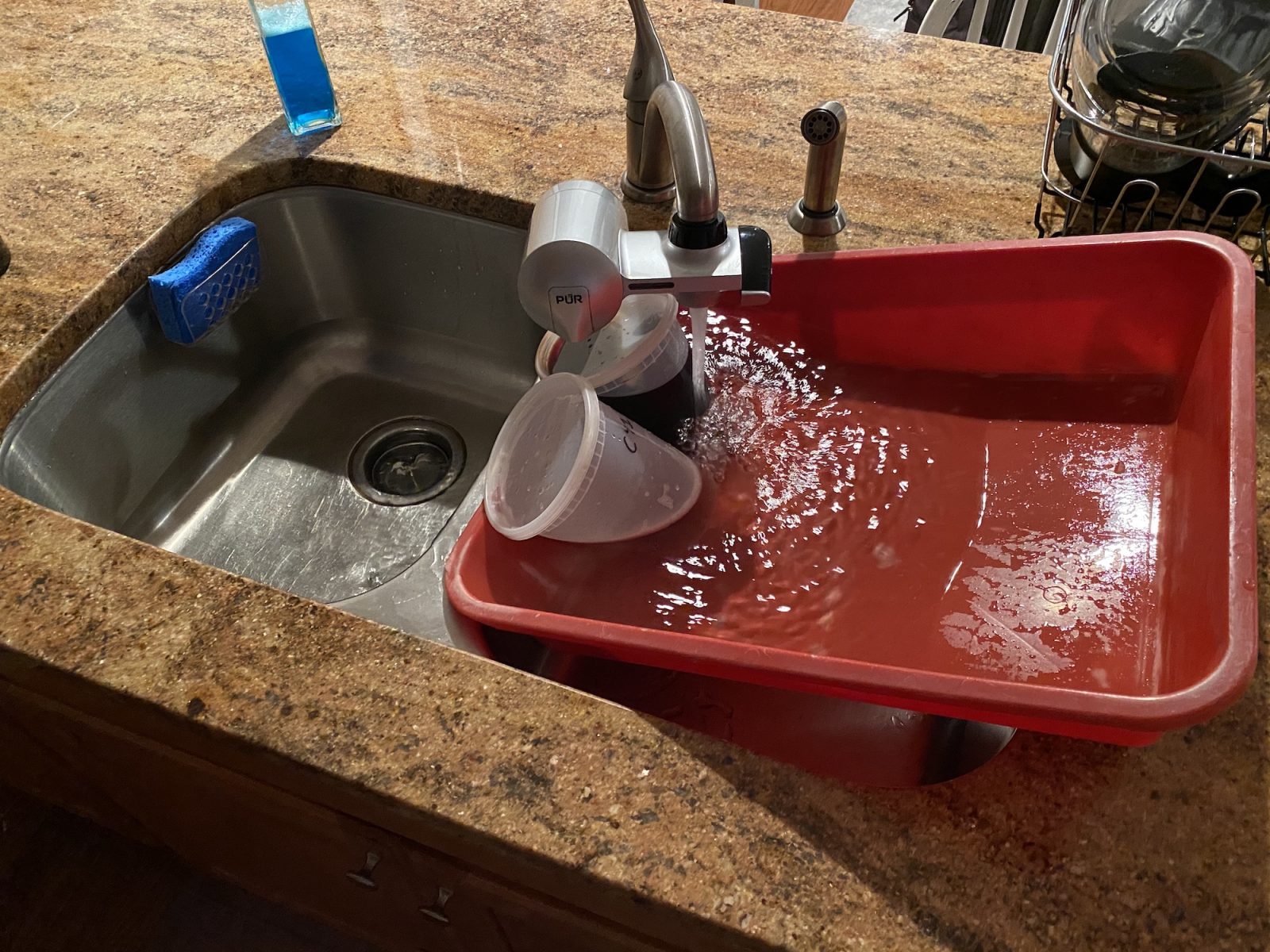 Warming up C-41 chemicals in my kitchen sink to develop color film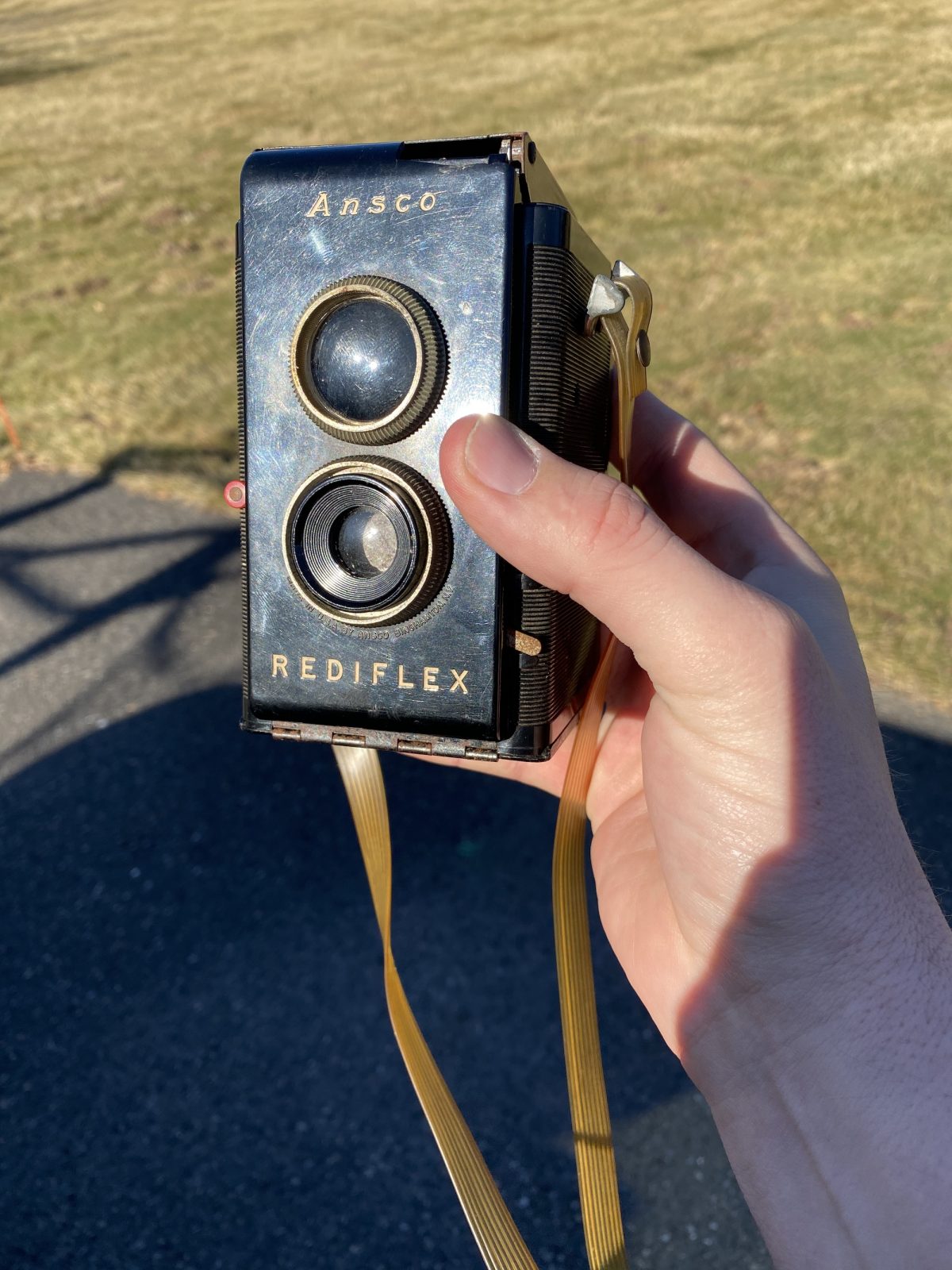 Ansco Rediflex
I had to modify 120 film to fit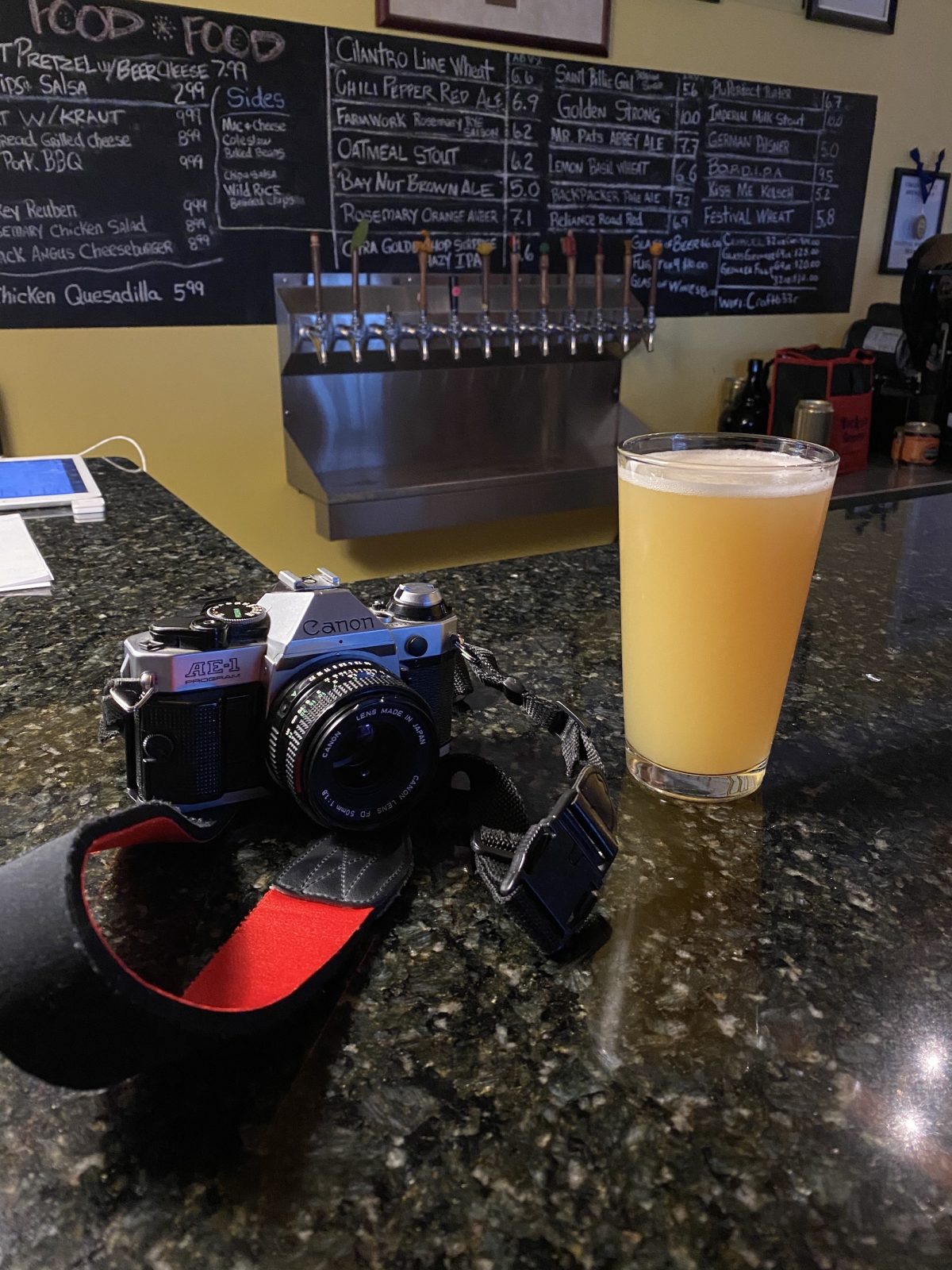 Canon AE-1 Program, gift from my brother-in-law
At a great brewery in Virginia
But I'm about to level up. I'm ready to move onto the next phase in my education and that is to use the skills I've learned so far to create high quality images using both 35mm and medium format film. I need to buy a bunch of brand-new film, which I'll likely ruin or mess up in some way, and I still need to track down the medium format camera (maybe a Rolleiflex?) that I want at a price I can afford. But all that I've learned these last months will hopefully help to cut down on the mistakes I'm about to make. I'm on a budget after all!
I'll check back in here in a few months time to see if, like the wine Eliza and I made, I'm making photographs that are now my favorite I've ever taken.
I'll be publishing a lot more photos here on my site that I've taken over the last few months as well.