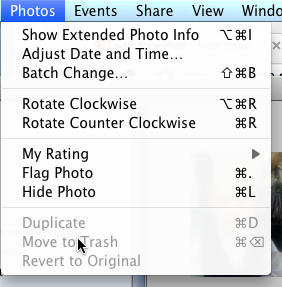 I use Smart Albums in iPhoto for a number of reasons, which I plan on covering in an upcoming post, but every once and a while I find a few photos that I'd like to delete. Not just delete from the Smart Album but actually delete from my entire Library. Until today I had not figured out how to do that.
The problem: When you have a photo selected in a Smart Album and you want to delete it the 'Move to trash' option in the Photos menu is inactive. I thought I had tried every single key combination I could think of, tried dragging the photo, tried to "find the photo in the Library" (like iTunes can do) and still nothing seemed to work.
The solution: Dom Barnes came to my rescue on Twitter. The magic keystroke is CMD OPT DEL. Or, Command, Option and Delete, when you have the photo(s) selected that you want to delete. This will move those photos to the Trash (even though iPhoto doesn't show you this option anywhere).
This is going to save me a lot of time. Thanks Dom.