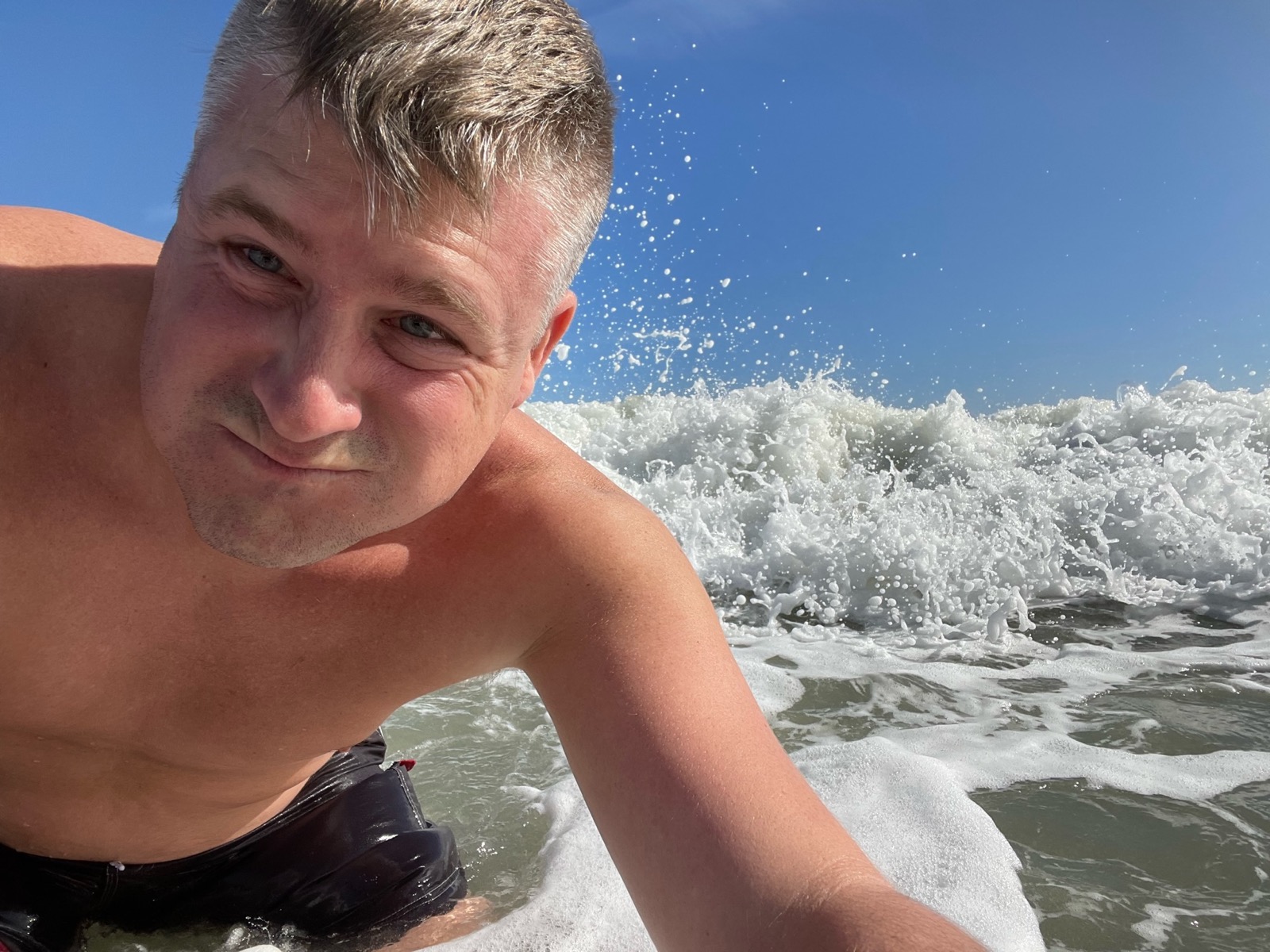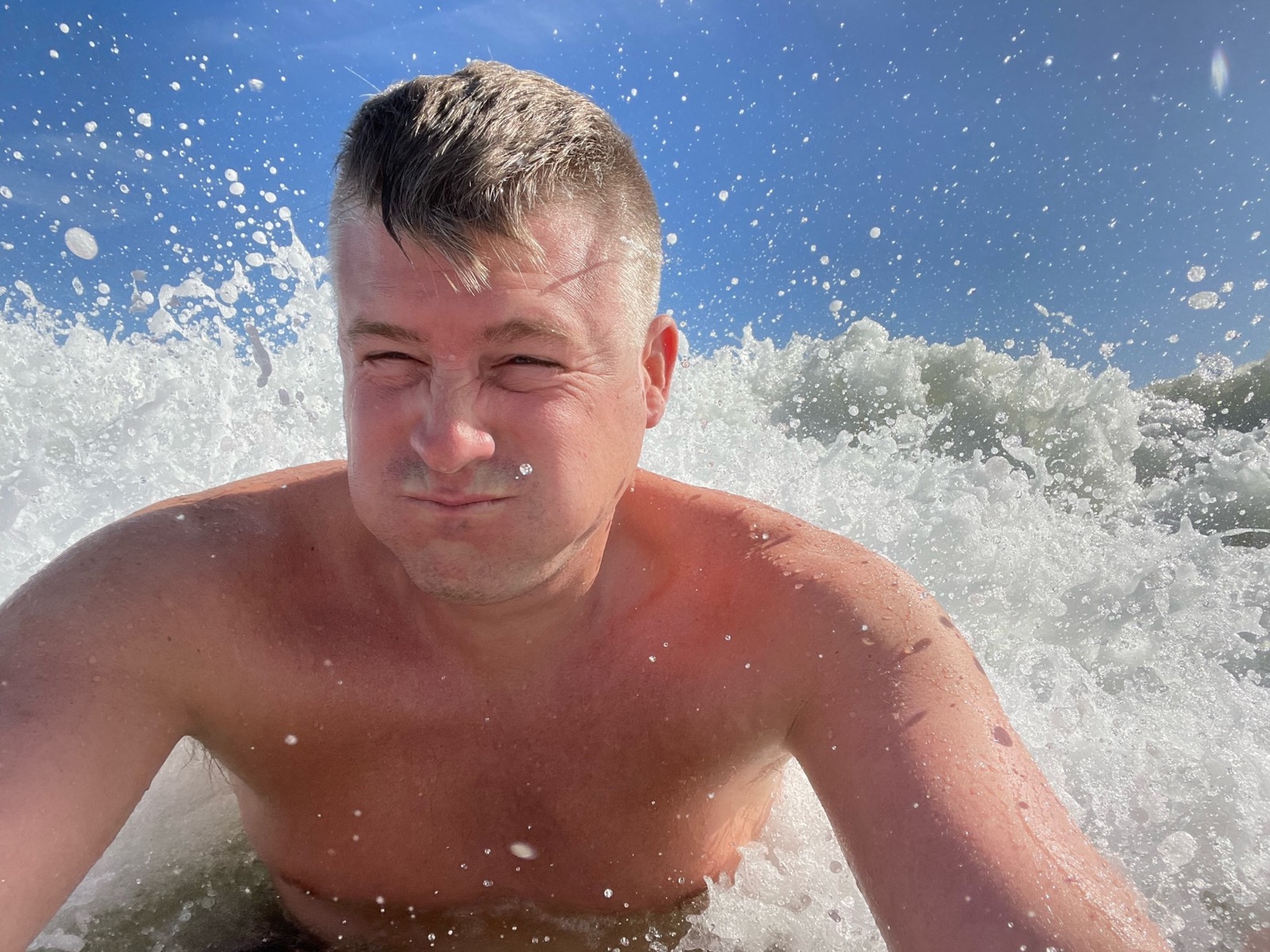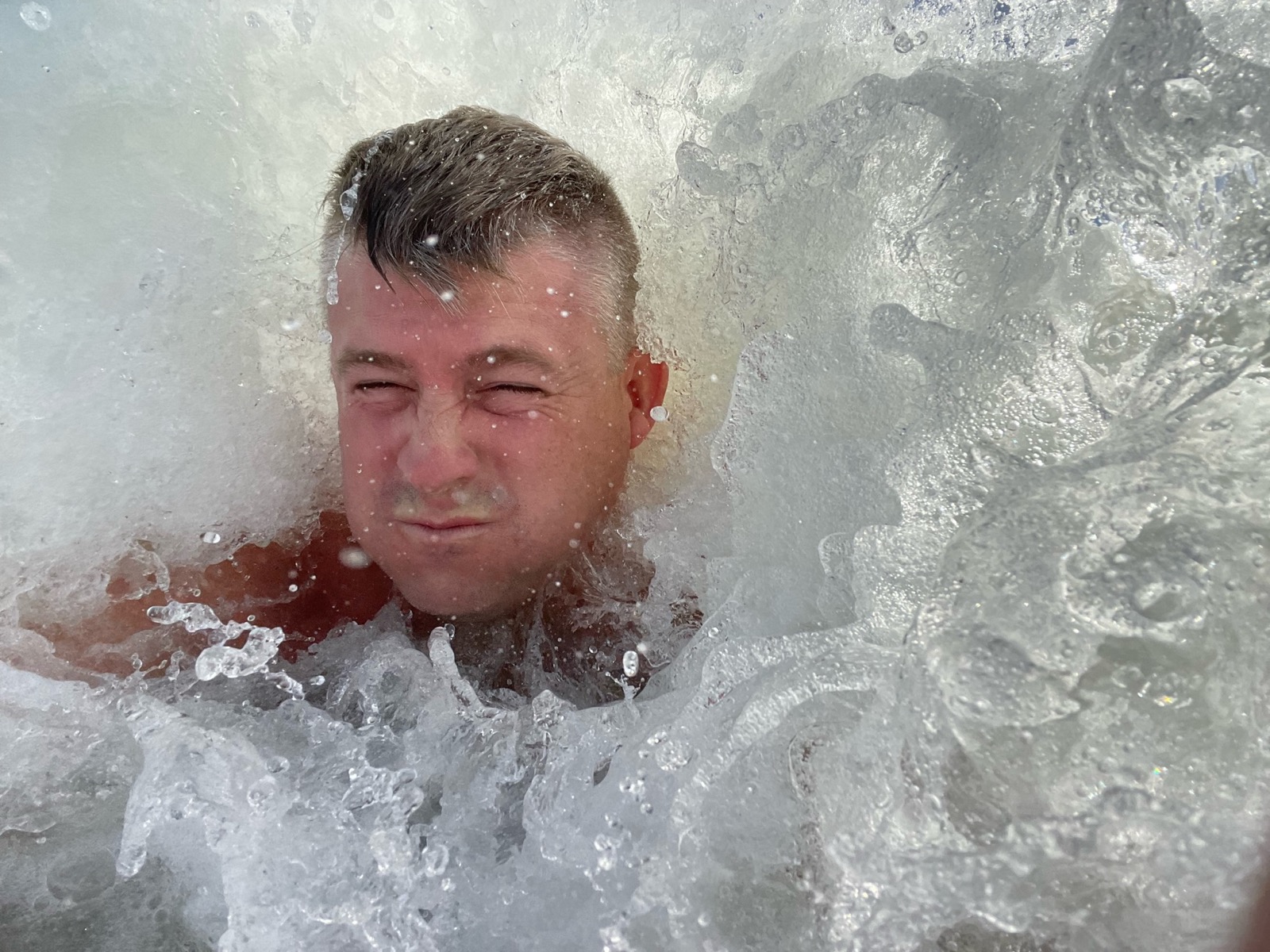 The above series of images were made on a recent trip to Ocean City Maryland and are very likely the reason why my iPhone became what is known as a brick.
Let me back up.
I've used my iPhones underwater ever since Apple said they were IP-rated for a reasonable amount of water resistance. I've gone swimming in rivers with them, navigated waterfalls with them, swam in pools and oceans, and scouted for fish in frigid streams with them.

Left: Trout in a creek, Right: Me underwater in our pool
Apart from sound issues with the speakers and microphone for about an hour or so after each session - I haven't had no other known issues using my iPhones underwater. 
That is, until I went and played in some ocean waves with my iPhone 12 Pro Max. I'm sure my phone became briefly submerged in the waves but it was never under the water for any length of time. Most of the exposure to the water was splashing. And not even high pressure or high velocity waves.
The problems started about 30 minutes after I got out of the water when the screen began to flicker a little. It was still responding to my touch and - had I known then what I know now - I would have connected it to wifi immediately and forced an iCloud backup to preserve the few photos and videos I took while I was on vacation. A few hours later, or so, after giving the iPhone time to dry the screen kept showing more symptoms of a slow and inevitable failure. The flickering turned to a more rolling effect where the screen would slowly shut off bottom to top. It also seemed that only the green pixels were firing as everything looked like it was in the Matrix.
I did what most anyone with knowledge of these matters would do - I took the phone out of the case, set it upright, and gave it plenty of airflow around it. Perhaps many of you reading this are screaming "put it in rice!"… no, dear reader, never put it in rice. You want airflow. I figured the issue with the screen was that somehow water got into the device and that once it dried everything would be fine.
I now think it had much more to do with the salt than the water. I wish Apple had plainly stated that the iPhone's water resistance was limited to fresh water… and if they have stated that I simply missed it. Here is what I see.
The official technical specifications from Apple's website state:
iPhone 12 Pro and iPhone 12 Pro Max are splash, water, and dust resistant and were tested under controlled laboratory conditions with a rating of IP68 under IEC standard 60529 (maximum depth of 6 meters up to 30 minutes). Splash, water, and dust resistance are not permanent conditions and resistance might decrease as a result of normal wear. Do not attempt to charge a wet iPhone; refer to the user guide for cleaning and drying instructions. Liquid damage not covered under warranty.
According to Wikipedia (and my novice read of it), the iPhone 12 Pro Max should be able to take a very good splash and even be submerged.
There are no notes regarding the water being saline or not and so I simply didn't think it would matter if I was in the ocean or in my backyard pool.
The iPhone was resting on a table in our hotel room cum condo when, the next morning, we were woken up by my weekday alarm on the iPhone. Even though I'm an early riser and seldom sleep until my alarm goes off, I have a just-in-case alarm set for each weekday at 6:30am. The iPhone was obviously still working at this time - about 18 hours after we got out of the ocean. But the screen was completely unresponsive and wouldn't turn on. I managed to shut off the alarm by some combination of mashing the physical buttons on the iPhone in a panic not to wake everyone else.
I'll spare you the details of how I tried to revive the iPhone by plugging it in, washing it with freshwater briefly in the sink, plugging it into my computer when I got home from vacation and trying to restore the iPhone in Finder. And I'll also spare you the details of talking to Apple Support via the phone while driving on north on I-95 on a Wednesday and subsequently taking it to a Best Buy for further debugging. And I'll cut right to where I went to Verizon, found out I had insurance (that I had totally forgot about) and was overnighted a replacement iPhone with little fanfare for the low deductible of $229USD.
I think if I had known that I had insurance and how easy it was to get a replacement I would have done it while on vacation and gotten the phone sent right to me. The process with Verizon was quick and painless (apart from the $229 of course).
Why didn't I upgrade to the iPhone 14 Pro Max? I may have if there were any in stock at the Verizon store I visited. I will admit I was tempted. But I have to say that the iPhone 12 Pro Max is a very capable device for my needs. Even though I'm a hobbyist photographer and the 48MP sensor is a tempting upgrade, I think the photos from my current phone's sensor is just fine for what I use it for.
The process of activating a new phone, restoring the device to the latest backup, and getting back in business is easier than ever. There are only a handful of applications that I wish did a slightly better job of storing their data in an iPhone backup. Because we were on hotel wifi, my phone needed to be manually reconnected every 24-hours. So some of the photos and videos that I took after the initial incident, but before the phone became unusable, I lost. If I could go back in time I'd have tried to get onto wifi before I lost access to the phone.
All in all I likely only lost a few dozen photos. Fortunately I had taken a film camera with me and I hope that I have a few memorable photos waiting for me, light saved in state in an expensive Kodak emulsion. Just waiting for me to mix some chemicals and bring them to life.
This was the first time I ever had a device go completely belly up. It was definitely a learning experience. I believe my takeaways that I hope I will learn from this hassle is to A) be sure my phone is connected to wifi as often as possible to ensure it is backing up to iCloud often and, B) always keep some sort of insurance on a phone - at least for the first 2 or 3 years of its life.