For the past 10 months my daily work computer has been the Dell XPS 13" 9370 white & rose gold laptop. Overall the experience with this hardware has been positive and most of the issues I've encountered have been software related (rather than related to the laptop itself). Here are some observations I've made about the device.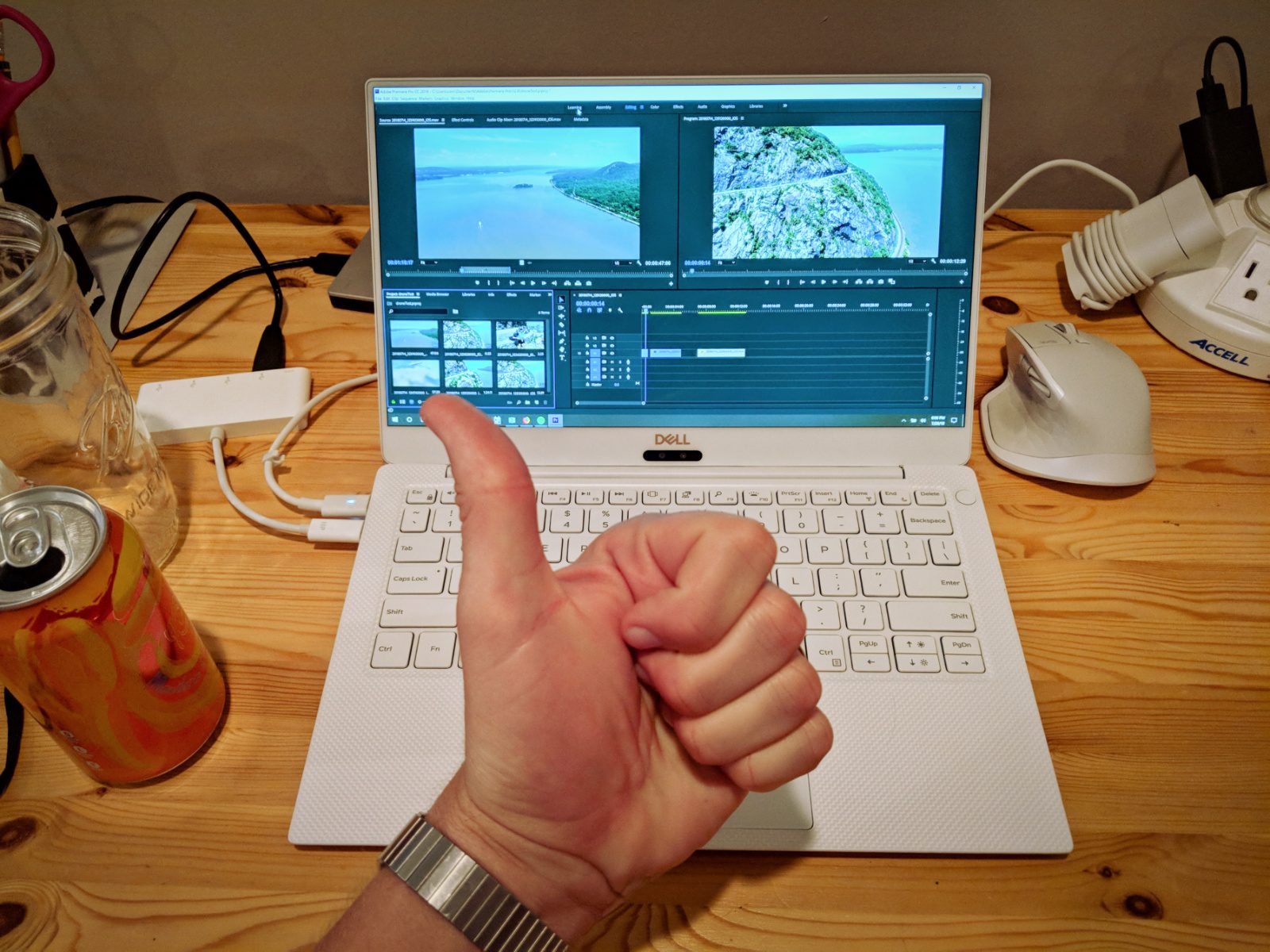 The size and form factor is just about the best size for a laptop for me. While I find myself at times wishing the screen were larger (say, working on a drone video using Adobe Premiere in Iceland) the 13" size is the best balance for me. The same was true when I was on the Mac.
I find the keyboard to be quite good. It isn't loud but the keys have enough feedback in them to feel like you're using a nice enough keyboard. And the arrow keys are large enough targets for me when compared to many other laptop keyboards.
The touch pad isn't very good in my experience. I rarely use it - preferring to use my Logitech MX Master 2S 95% of the time - but when I need to I do not like it. It is a combination of the texture being too smooth and the accuracy and two-finger scrolling being difficult.
The camera being at the bottom of the display isn't as bad as many made it out to be. Personally, I use that camera for team video calls. It works fine for this (albeit at an unflattering angle). I see that as of yesterday Dell has an updated configuration with a small camera at the top of the display.
The performance of the laptop - both processing and graphics - is adequate for the things I do. I do some photo editing, personal and professional video production using Adobe Premiere, and am frequently using Photoshop and Illustrator. I also jump into Minecraft with my nephews from time-to-time. Yes, the fans spin up.
Having the microSD card reader built into the laptop has made transferring large 4K video from my drone a breeze.
Being all USB-C has been great. I had a similar experience when I had the MacBook Pro with USB-C but it has only gotten better with my phone (Pixel 2 XL) and tablet (iPad Pro 12.9") also being USB-C. On the past several trips I've only needed a single cable to charge all of my devices.
I'm very glad I chose the white finish for the laptop - it is virtually stain proof and shows zero sign I've even used it.
I've had an issue where the Qualcom bluetooth chip will fail occasionally. I'll show up to work, boot the laptop from "hibernation" or "sleep" (I'm unsure which since Windows 10 has several different levels of sleep for computers) and my mouse, keyboard, headphones won't connect. Only shutting the computer down, disabling the chip, and re-enabling it in Device Manager brings it back. If the problem persists over the next few Windows 10 updates (which I get frequently) I'll be calling Dell for a replacement. Since I haven't seen any other reports of this issue I'm guessing I just have a lemon chip.
I turned off the touchscreen. It is easy to do in Device Manager. I'm sure for some people in some use cases having a touchscreen totally makes sense. But I simply have no need for it. At the time of purchase I do not believe there was a configuration with a high enough quality display that was not touchscreen so I had to purchase it.
The battery life is sufficient enough. I actually think it could be far better but I blame Microsoft's power settings in Windows 10. Perhaps I'll touch on this more in a future write up about Windows 10.
The power cable that comes with the laptop is very good and I end up using it most often to charge other USB-C devices.
The laptop is light as a feather and I hardly notice if it is in my bag or not by weight alone.
I think this laptop is a fine choice for a Windows 10 laptop. While I would like to try a ThinkPad X1 I think I chose a very decent Windows computer for the price point.
If you have any specific questions I'd be happy to answer them via email or in the comments.