_This post is part of a series of posts in my goal to hike every trail of Lackawanna State Park. Also see park map._
Hiked in September 2016 - Approx. 7.5 miles - I parked in the last parking lot along the main road of the park; Lake View Drive. It is the same lot you'd park to watch the hot-air balloons take off. Or, as one biker bro I met along the trail put it... "Isn't that where the blimps take off?"
I started from the lot and walked west to the dam. I don't know if this particular little area has a name. Perhaps Ridge Trail?
Once at the dam I walked to the top of it and watched the waterfall for a while, then I looped around underneath the waterfall to look for crayfish (which I found a few of). Instead of crossing the bridge I walked downriver of the South Branch of the Tunkhannock Creek.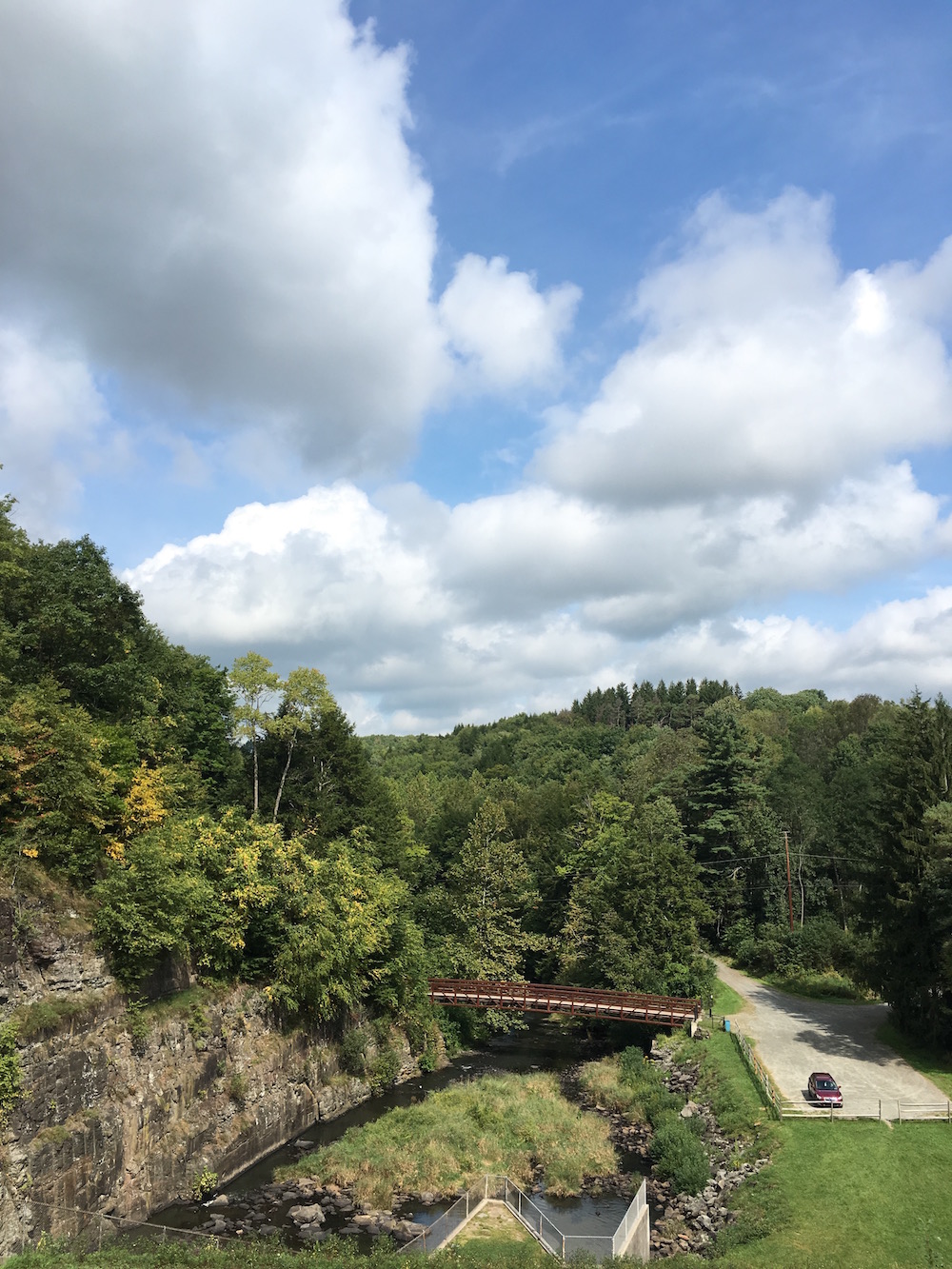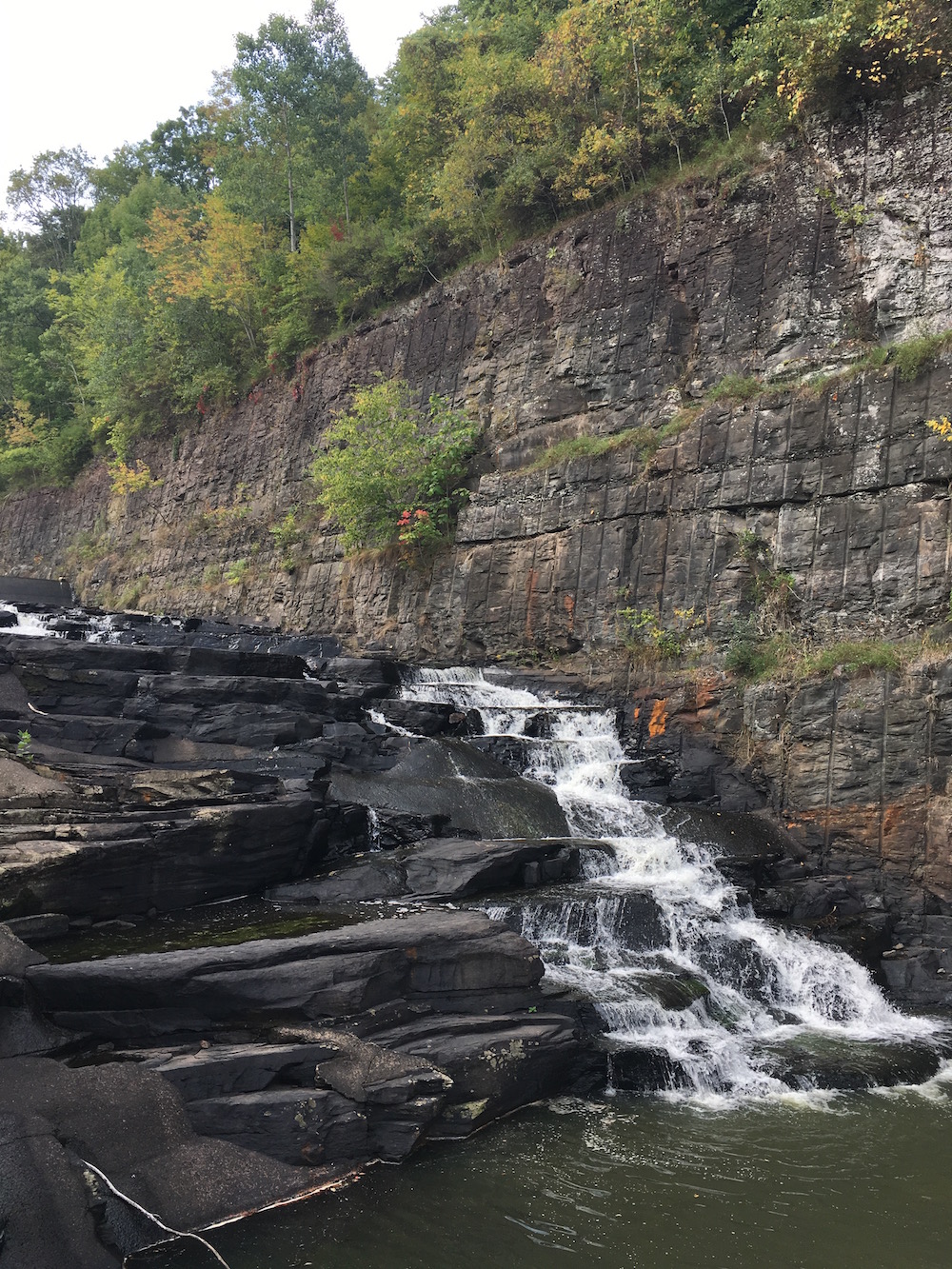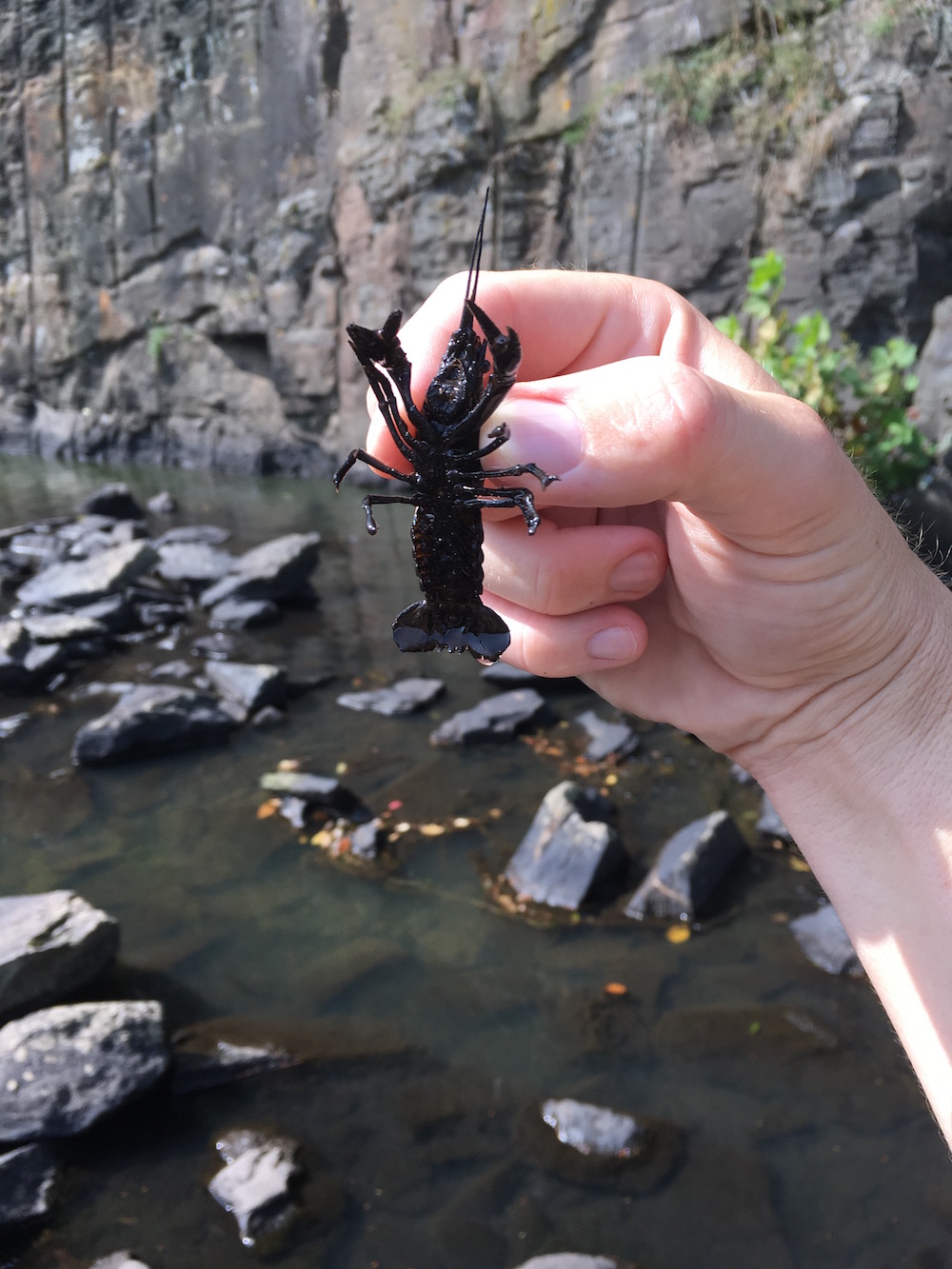 You may notice that this creek's inlet is on the direct opposite side of Lackawanna Lake at Cole Road. One of the interesting things about walking this entire park has been to see where water enters and leaves this lake. Perhaps I'll be able to write a post just about how the watershed of this lake works. I think it'd be a neat research project as well.
Walking up Austin Road, parallel to the creek, I made my way up to the North Woods Trail entry. Looking at the map this next stretch of trail seems like it is one of the longest single, unbroken trails of the park. Perhaps the only competition it has is Abington Trail (which, if you look closely, spans multiple sections of the park) and South Branch Trail. So I was looking forward to a nice long hike through the woods.
North Woods Trail is, for the most part, a canopy covered trail. If you're ever looking for a hike on a hot day this wouldn't be a bad choice as the sun only touches the forest floor here and there. There are a few small rain-created streams, though not marked on the map, along this trail which also helps to keep the area cool and lush. As the trail hugs the western most border of the park you'll end up seeing a few neighboring lands, a few fields, a few cows (you'll smell and hear them too).
Most of this trail goes sideways along the main campground hill (unnamed?). You'll notice at the bottom of the map's legend that each contour on the map indicates an elevation change of 50'. So while North Woods Trail starts off around 900' you'll end up at around 1200' and back down to 1150' by the time you hit Route 438 to the north. You can sort of imagine that the trail is directly horizontal on the sound of a small hill.
This also means that your right foot is sometimes higher than your left. I point this out because while I feel this trail is relatively easily hiked for just about anyone - if I had a bad hip I may not choose such a long trek with the ground being this uneven.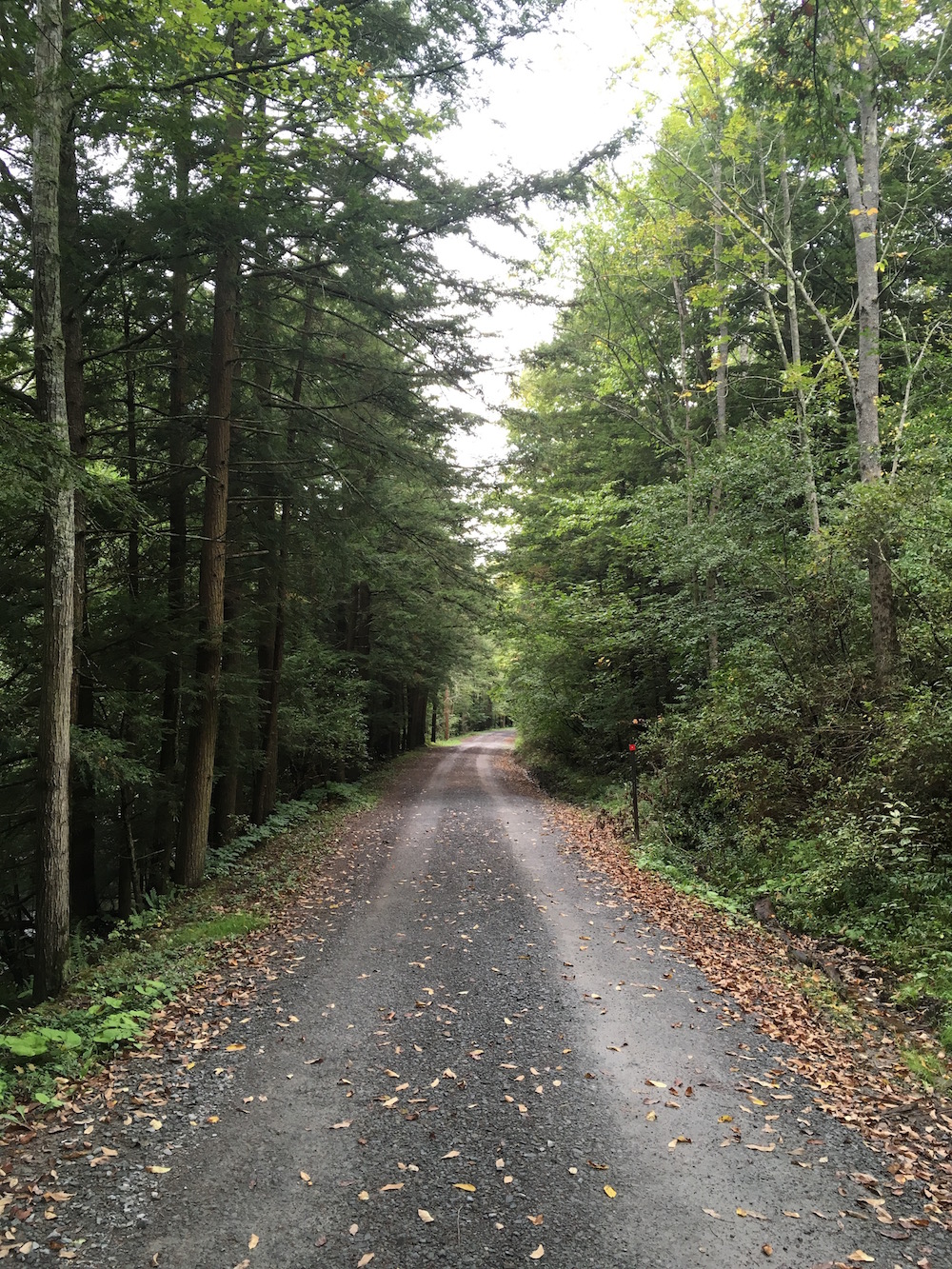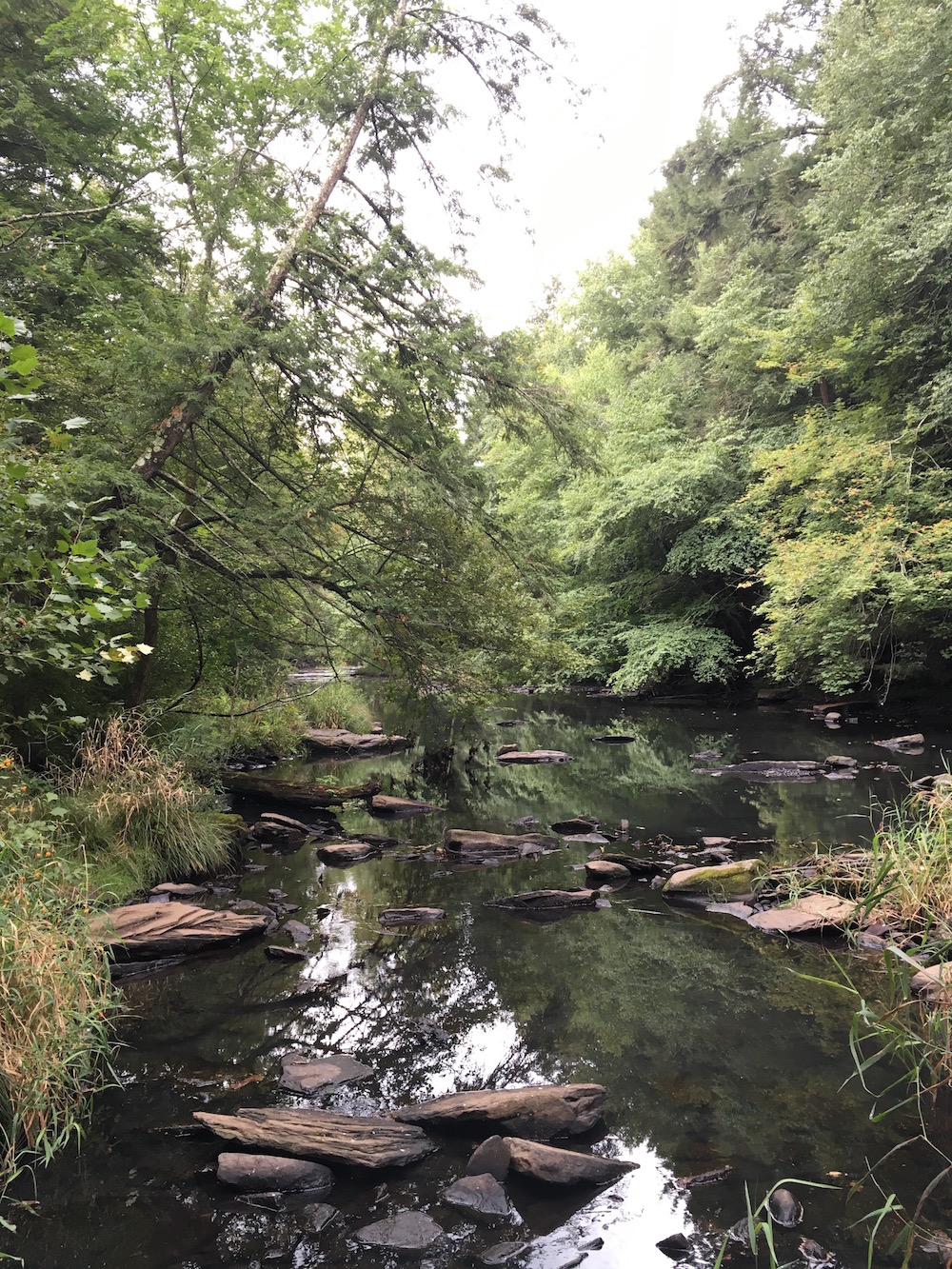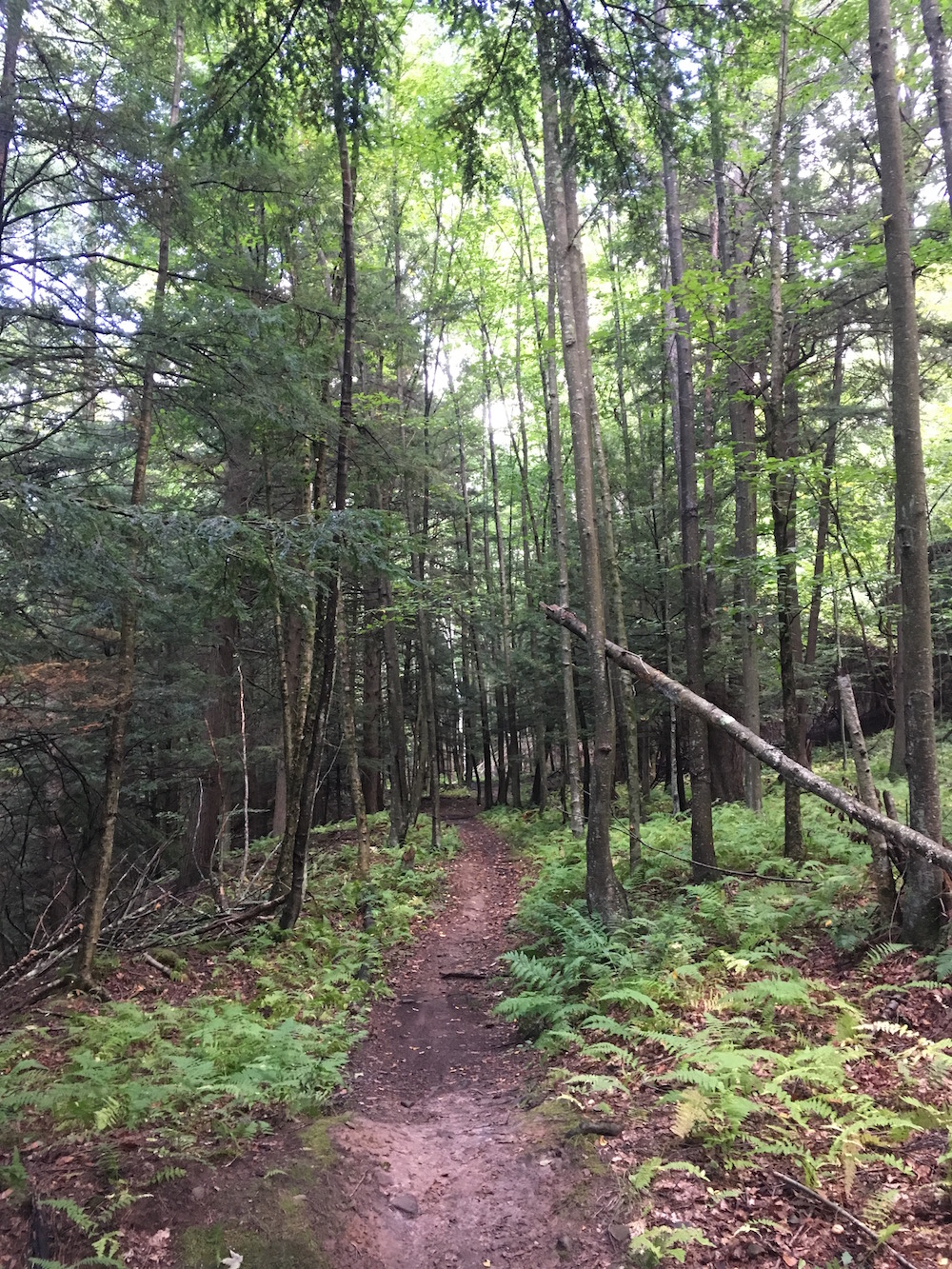 One thing to note along this trail is the gnome village. If I had to guess at its exact location I'd say it is found just below where Grouse Trail and Beach Woods Trail meet on North Woods Trail. You'll know it when you see it.
I followed North Woods Trail across Route 438 and then Route 407. This section of the trail between 438 and 407 is likely really fun for bikers as it is mostly downhill and switchbacks and forth with ramped edges. Once across 407 you have to follow a "path" through the fields to get to the south edge of Trostle Pond and turn right (south) towards Whites Creek. In this area you're sort of looping around someone's private property.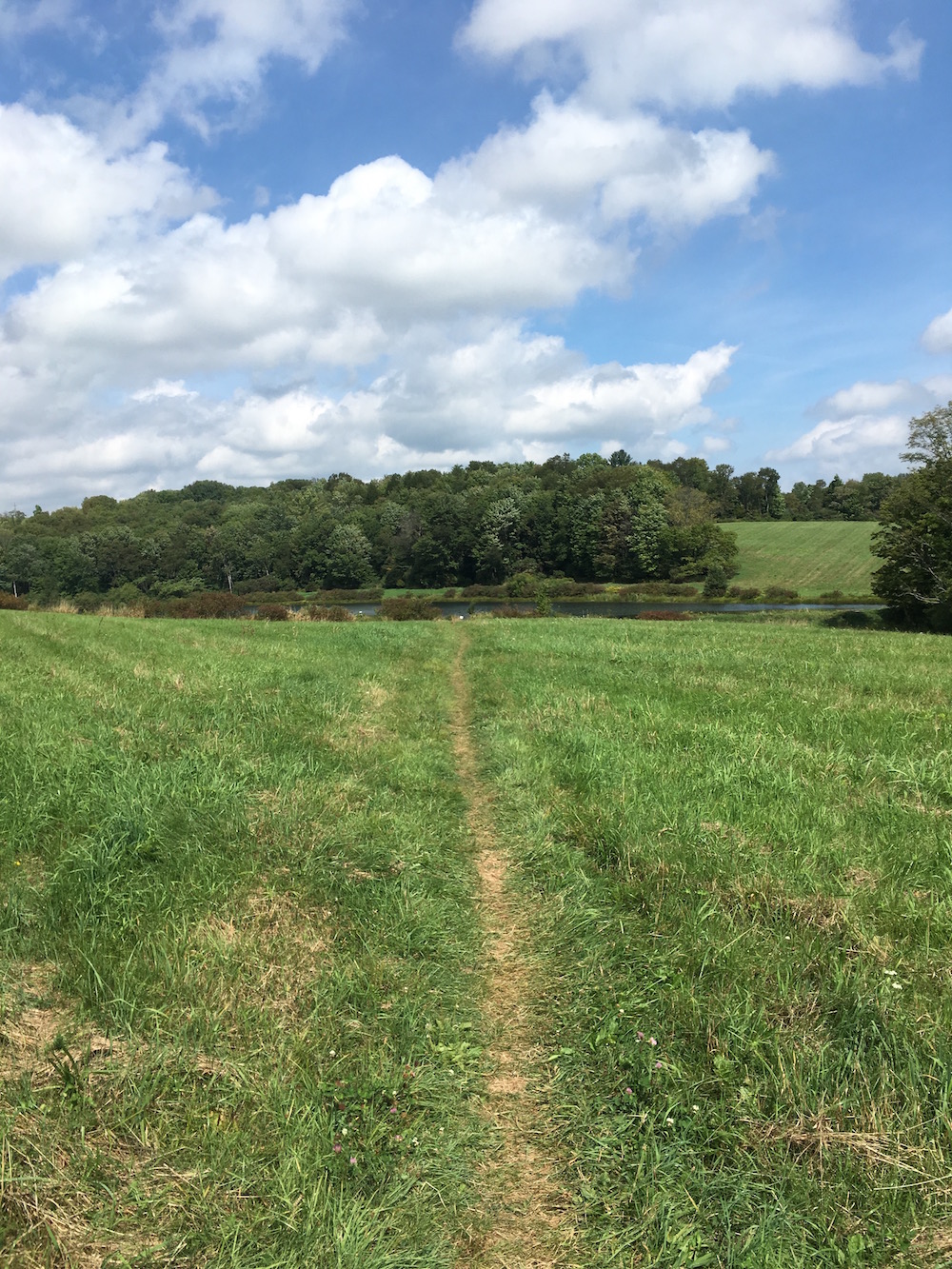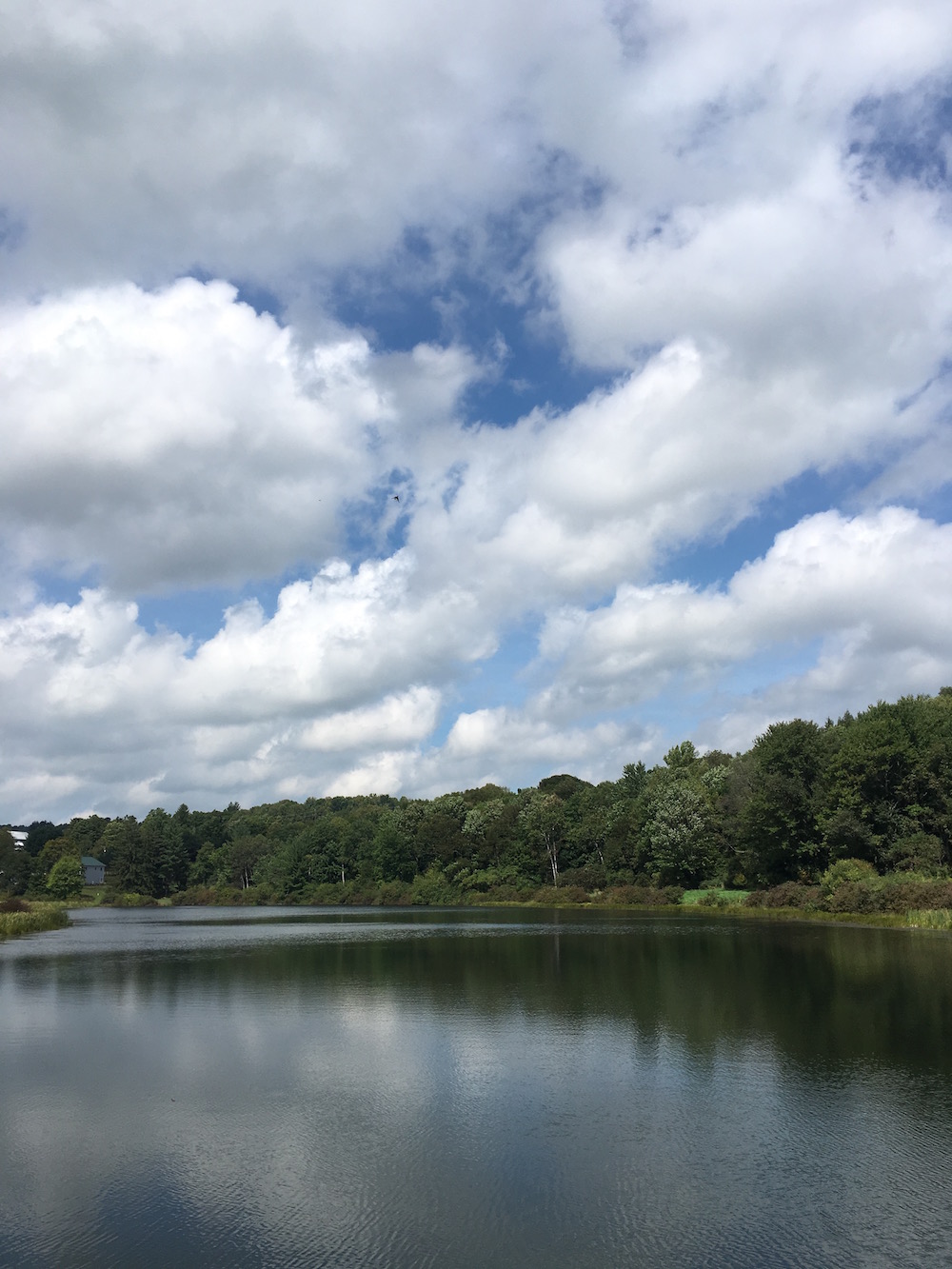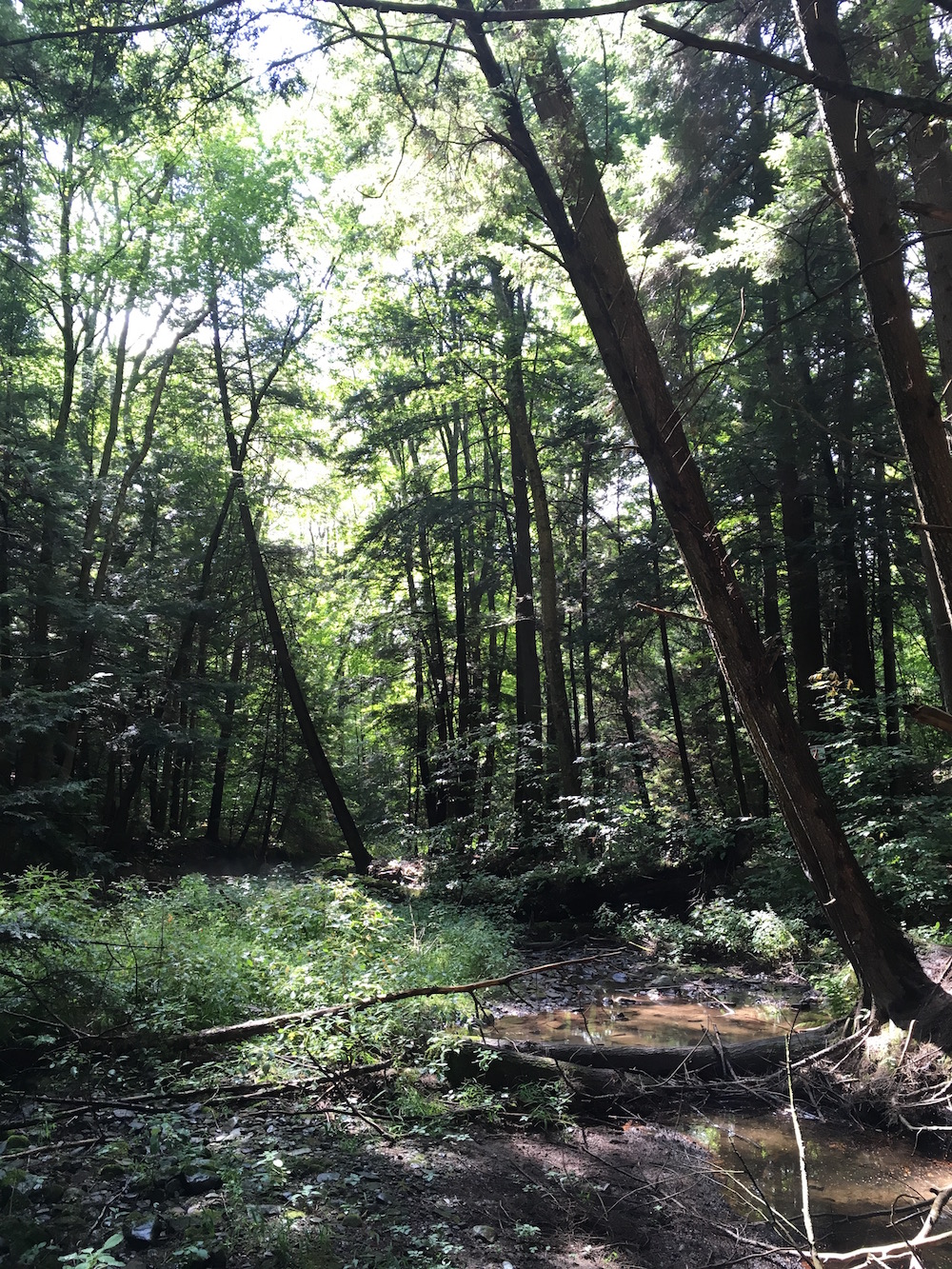 This small little stretch might be neat if you're looking for just a 20-30 minute hike. The stretch between 407 and over to the parking lot where the aero club flies their planes and helicopters. The field near Trostle Pond is easily walked, and the area under the canopy by Whites Creek is just a neat little area to explore if you don't have much time.
After a quick jaunt down to Bullhead Bay to see what was going on down there (this is where I've put in with my kayak several times) I walked west on 438 until I found the entry to Orchard Trail.
Orchard Trail hugs the lake for the majority of your walk. It too is cut through the side of a hill but is flat for the most part, offers some views of the lake as your walking, and is never out of sight of the main road. Orchard Trail too can likely be hiked by anyone and within about 30 minutes at most even stopping for photos along the way.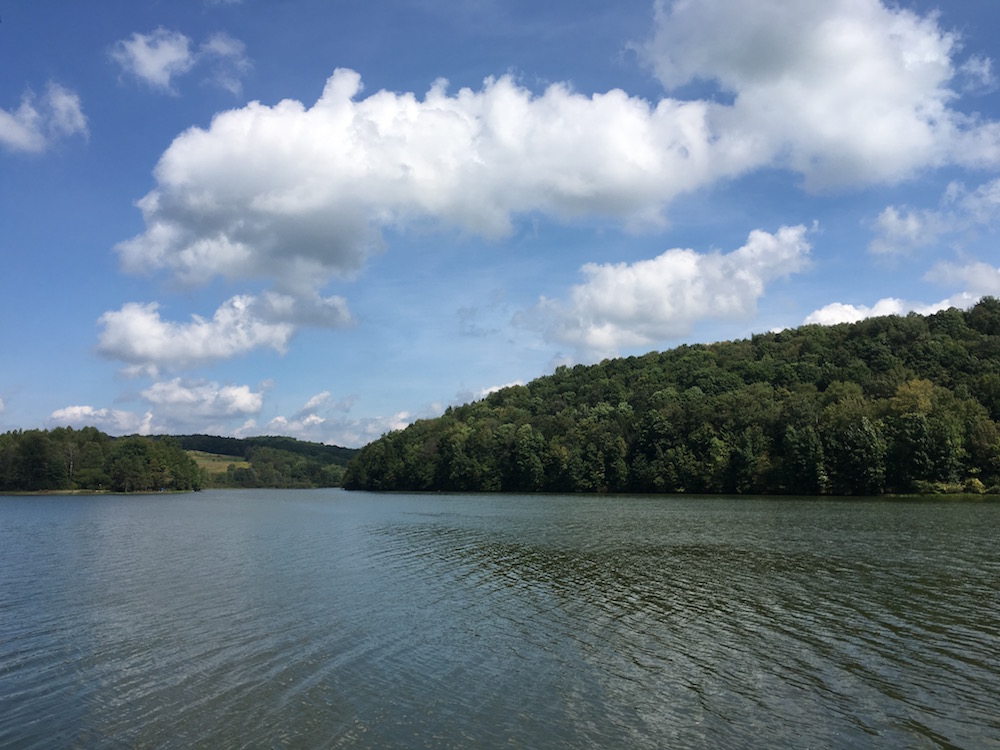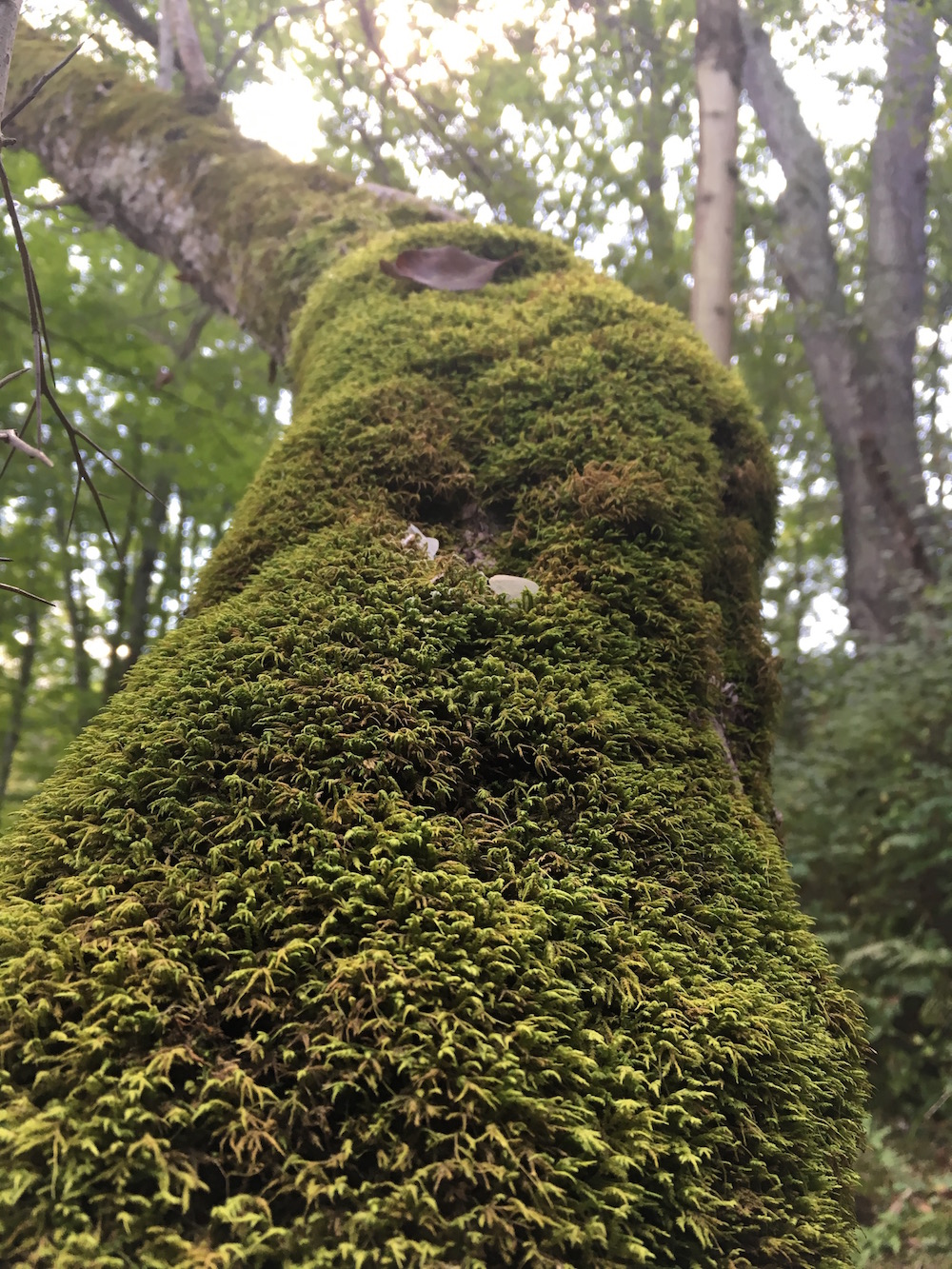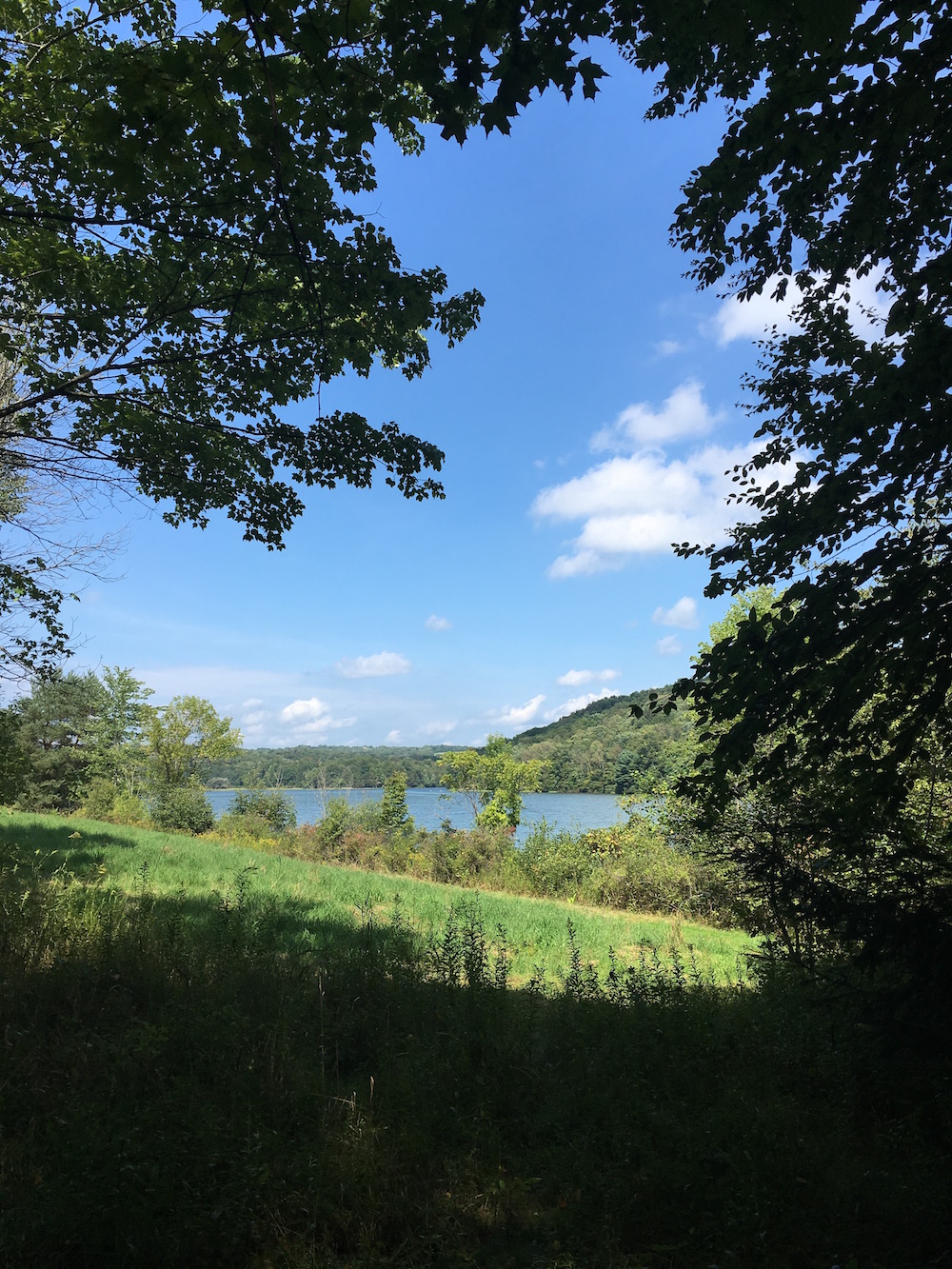 Once I found Route 407, right across the road from the park's main entrance, I simply walked Lake View Drive back to my car.
There are some small jogs of Bull Hill Trail and Tree Line Trail that I may have touched when finding my way by Whites Creek. I've made a mental note to throughly explore this area to make sure I don't miss anything when I go back into that area of the park.