Though this event is split into two parts, the Philadelphia WordPress Meetup and the Philadelphia Webloggers Meetup to me it is all just about blogging and so I sign up for both.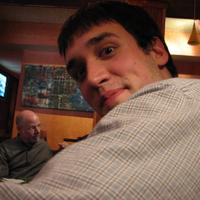 Chris at Ten Stone Bar - April 15, 2006
This Saturday (February 17th from 2:30pm till about 4pm) I'll be attending the Philadelphia Webloggers Meetup at Ten Stone Bar & Restaurant. Will you be there?
So far Eliza, Mike, and Chris are coming with me. It looks like Rob, Tom, and Marisa are definitely going. Andrea and Jason might be going. And sadly Tony G. can't make it. Update: Happily Tony G. is able to make it!
And, it appears we're going to have a fairly full house.
If you are in the Philadelphia area (heck I'm 2 1/2 hours away and I'm still going) and you'd like to meetup with some great people to discuss WordPress, blogging, Viddler, or just sit back and enjoy a beer - sign up to the meetup and we'll see you there.
Note: You can add this event to your calendar program of choice since this post is marked up using hCalendar. Enjoy.
Note addendum: It appears that the above link won't work for Outlook users? Not sure why - probably because Outlook sucks? ;)