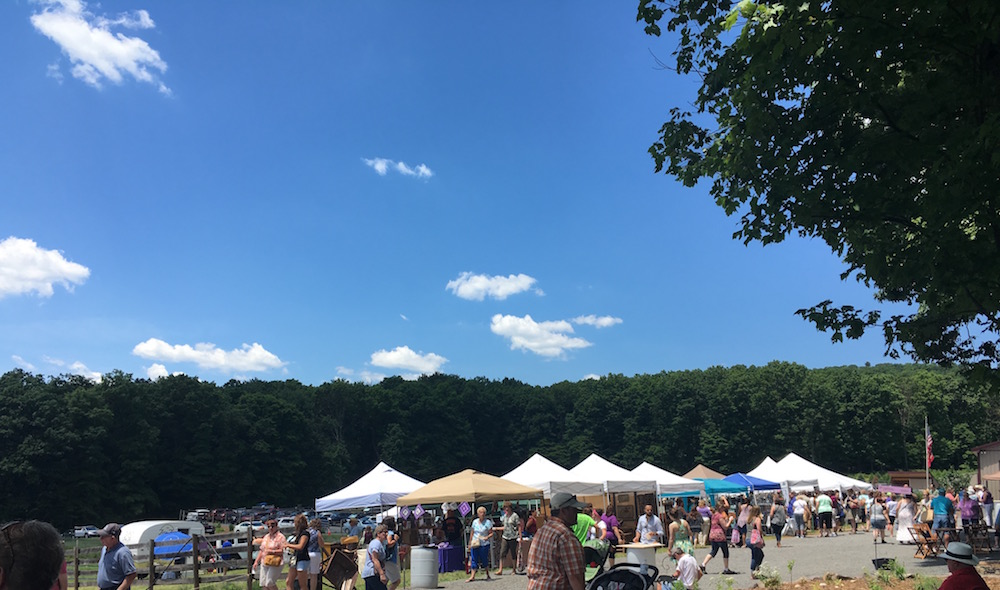 This weekend a few friends, Eliza, and I went to Hope Hill Lavender Farm's Lavender Festival. As one would expect with all lavender events, it was an absolute smashing success with thousands upon thousands of people turned away due to it being overcrowded.
Wait, what?
Let me back up and explain what happened then I'll give you my review of the event. And by back up, I mean a few years.
A few years ago Eliza and I decided to drive to Pottsville to tour the Yuengling Brewery. It is a great tour and I recommend you take it if you're ever in the area. It is the oldest brewery in the United States and the tour guides are pleasant and knowledgable. We had searched online for a few things to do after the tour, since it is a bit of a drive for us, and we found a nearby lavender farm that we thought might be neat to see.
When we arrived at Hope Hill Lavender Farm we quickly realized that the lavender farm was a few small acres of land in the front of someone's home. We almost turned around since we didn't see anyone around and didn't want to intrude on someone's property. It was then that we spotted Wendy and Troy, the owners of Hope Hill, and they invited us to come and see the lavender, to even help cut a bit of it, and took the time to show us the process behind their work.
Wendy and Troy were beyond gracious with their time and we knew we'd end up coming back someday.
Fast forward to a few months ago when we saw, on Facebook, that Hope Hill Lavender Farm was going to have a lavender festival at their farm. I quickly clicked the "I'm Interested" button on the event and sent it to Eliza and one or two friends I thought might want to come with us and do exactly what Eliza and I did a few years ago; tour the brewery and go to Hope Hill and see Wendy and Troy's place.
Well, it turns out tens of thousands of other people did the same thing. Thus demonstrating the power of Facebook. The event spread like wildfire. Over 65,000 people clicked "interested" on the event. 9,000 said they wanted to come. And 8,000 more were invited but never responded.
Obviously the Hope Hill team knew they would never, ever be able to accommodate that many people. So they decided to ask people to grab a limited number of free tickets on Eventbrite to limit how many people could come. They decided to limit it to 3,500 people total. (I would have picked a lower number, more on this in a bit).
Of course, people being people, thousands freaked out because they missed the boat. Fortunately, Eliza saw that tickets were needed and grabbed some before they were sold out.
One point to make here: Of course you could argue... this is Facebook, no way would 9,000 people actually show up. Sure, that's possible. But if you look through Facebook and on Instagram you'll see that people traveled from near and far, some even made a weekend or week trip out of the ordeal. So, I wouldn't doubt that out of those 9,000 far more than 3,500 would have shown up. I don't know if Hope Hill kept a number but I would say they easily had 3,000 people there during the day and would have had more if they could have possibly fit them all.
I'm really happy for Hope Hill. I'm happy their event went viral. And I think they handled it as best as they could. I've been part of planning, in some capacity, several large events and I know how stressful they can be. I once gave myself a fever from working way too hard during an event. I hope they didn't.
So, now onto my review.
I thought the event was great. And so did everyone with me. We had a really nice time. Getting into the event took about an hour or so. And getting out took about 20 minutes. If there was anything I would have changed about the event it would have been that. But is also sort of added to the experience. We ended up chatting with several other cars going into and out of the event. They had some nice vendors, good food, good music, and some nice things to see around the farm. And, of course, lavender. It was exactly as I expected since Eliza and I had visited there before.
If I had never visited Hope Hill in the past and I hadn't known that the event went viral on Facebook and was completely out of the control of the owners... I think I would have had a different mindset going in and likely had a different opinion. I don't blame people for being upset that they couldn't go. But I think compassion for the Hope Hill team is warranted.
I have no idea if we will go to the festival again but I do know that we'll likely visit Hope Hill Lavender Farm again. Thanks to Wendy, Troy and everyone else that made the event possible and a huge success.