Below, in order, are my notes, thoughts, and random pieces of media that I'm collecting at this year's SXSW. You can subscribe to my blog with this feed, and keep up to date. Each time I update this page, I will mark the date, time, and location that I am updating. Each date and time is hyperlinkable (not a real word).
Thursday, March 8th
12:33pm - In preparation of the trip from the northeast, to south by southwest (fittingly) - I picked up some shorts and got my hair did (photo). I managed to get these two tasks done fairly quickly and get back to my office for a few "last minute" things that I need to get done before we set sail.
Right now I'm waiting on the WineLibrary TV crew to get their latest episode completed. I'm helping them integrate their show with Viddler's system so that they get the most benefit out of it. Yesterday's show was a huge success and today we're hoping to add even a little more value for the Vayniacs.
People are really coming around with how Viddler works in situations like this. I think WineLibrary TV's episodes are the perfect candidate for Viddler's technology. Check out this comment.
"Man, after being a naysayer yesterday, I have to say that these new tags are awesome, and I'm now a total convert!" -- Kent I
As this service matures, I think many people will start to enjoy interacting with their video in this manner. Stay tuned - because today's episode should have a few new features that I think their audience is going to love.
2:35pm - I think it is amazing how many people are going to this thing. I've gotten more instant messages and emails today than I have in a very long time, and most of it is about trying to get together in Austin. In one hand; exciting. In the other; overwhelming.
I'm still going over our itinerary with a fine toothed comb. I have a lot of friends that are speaking on panels, and it'd be really nice to see all of them on stage, but I doubt I'll get to see anyone since they are mostly there for "Web dev stuff" and my primary focus will be on Internet video while I am there. Well, back to the calendar.
4:20pm - I had the privilege of helping to prepare WineLibrary TV Episode #196 using some new Viddler features. Things went really smoothly and so far it seems that their audience really enjoys it.
Now I'm packing my suitcase, going to see if I can get a small nap in this afternoon before I pack up all of my "technology stuff". I have to leave at 4:00am..
10:51pm - Just packing up my "tech stuff". Heading to New Jersey in 5 hours or so to catch a jet plane to Austin, TX. My next update will probably be from an airport or something.
Friday, March 9th
11:02am - On Continental Airlines Flight 350 at 34,000 feet: Our ride this morning was, well, interesting. I was supposed to be the navigator for Mike and I to get to Viddler HQ, pick up Rob, and head to Newark, NJ to catch our flight.
Mike and I got to talking and I managed to allow us to pass a few exits, a few times, so we did a lot of U-turning. Then, after we finally met up with Rob - we were on our way to Newark International Airport and Rob forgot his wallet. Another U-turn.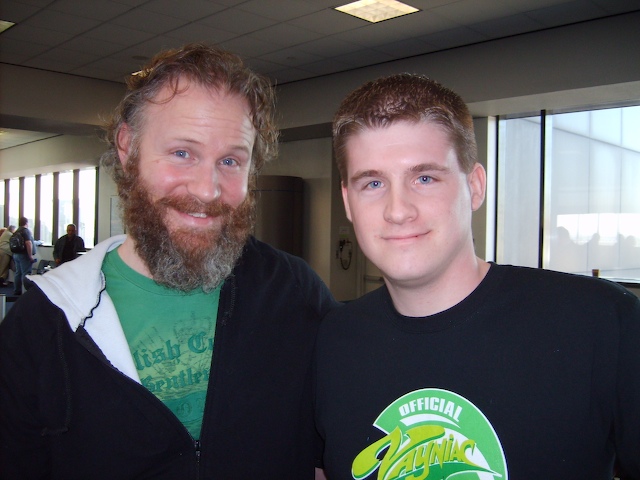 Morgan Spurlock and I in Newark, New Jersey
We finally made it to the airport, all of us having to pee like crazy, and managed to get on Mike's flight (we were on standby for this flight). Mike is about five rows behind me right now, looking at some girl in a rather inappropriate way probably, and Rob is next to me. Next to Rob is a nice guy named Jeremy who is also heading to South by Southwest with Morgan Spurlock (of SuperSize Me fame), who I had a chance to meet and have a short chat with.
James Bond: Casino Royale is currently playing on the screen as I am listening to Dan Benjamin interview Cindy Li on the latest Hivelogic Radio. I'm going to finish listening to Hivelogic Radio before I move onto watching the latest episode of Heroes that I downloaded before I left.
4:38pm - @ SXSW - 2nd floor: - Just got registered. Going to see if we can fit in a panel here at the convention center. The first panel we wanted to see is at a different place. :(
6:14pm - From the back of Austin Cab 451: - Rob and I are in Best Buy parking lot, in the back of a cab. We just bought some things we needed for the HD camera (since we now have a press pass), and we want to be able to tape some of the panels we're attending.
I was twittering with Chris Messina and I saw him and Tara sitting at a table. If it wasn't for them I would have never figured out that there was "big bags" to get full of cool trinkets. Most of them are purely marketing material, but that's cool. There was piles of papers that people threw out of the bags onto the tables.
I just met up with David Seah just before leaving the convention center. I did an interview with him while he was trying to put together some legos. Video coming soon.
9:21pm - At the Double Tree Room 609: - Just got back to the hotel after eating at The Boiling Pot on 6th. Very cool place, nice and spicey. Alex, Rob, and I ate crawfish, potatoes, corn, and other stuff that was spilled out all over the table. Sound familiar Eliza?
Now we're trying to get our Internet connections working. Here are some photos that I took today.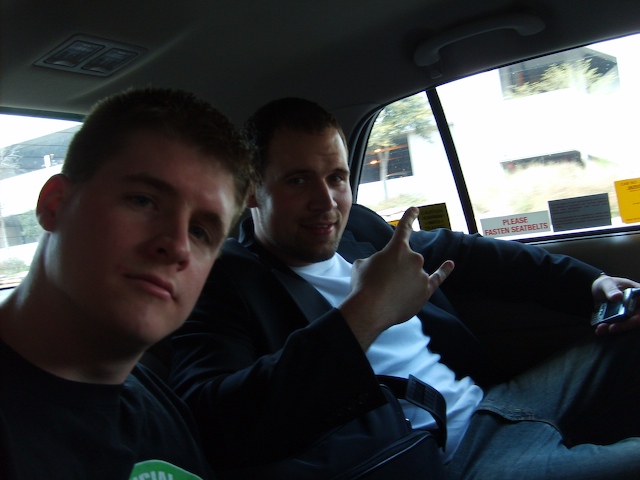 Rob and I in Taxi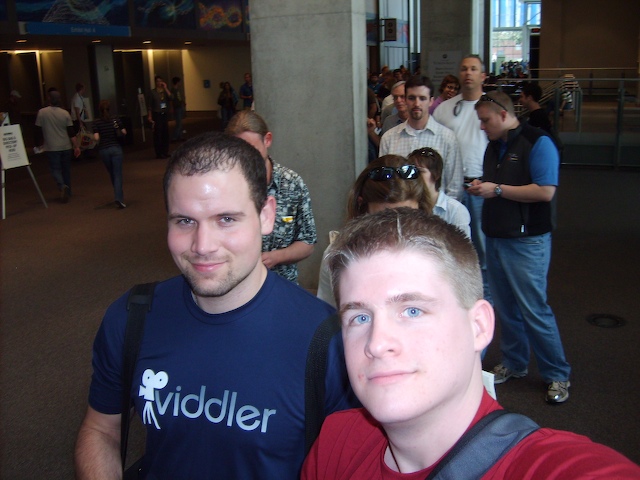 Rob and I in Line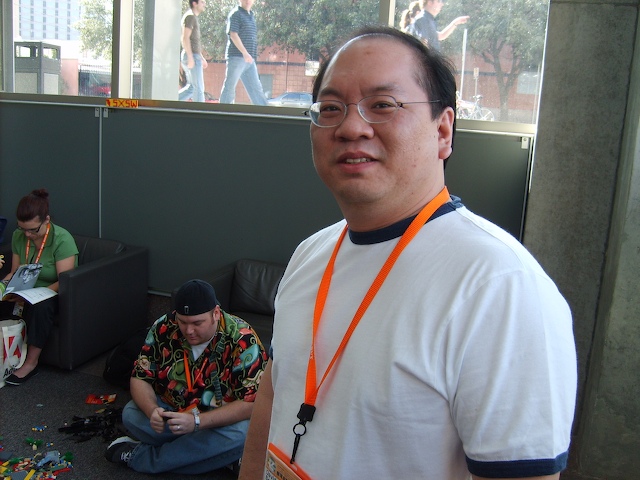 David Seah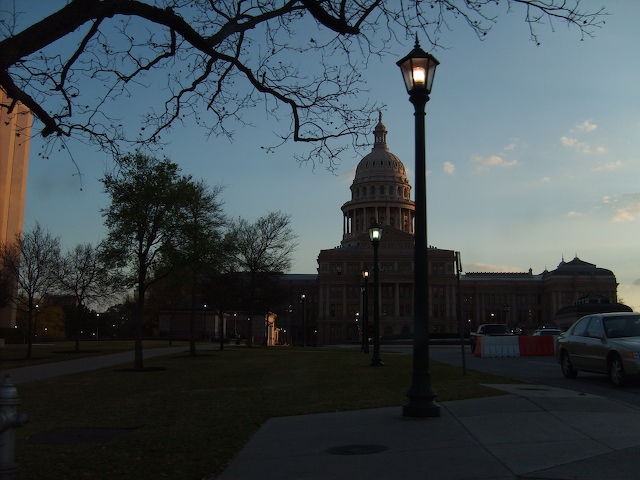 The Capital Building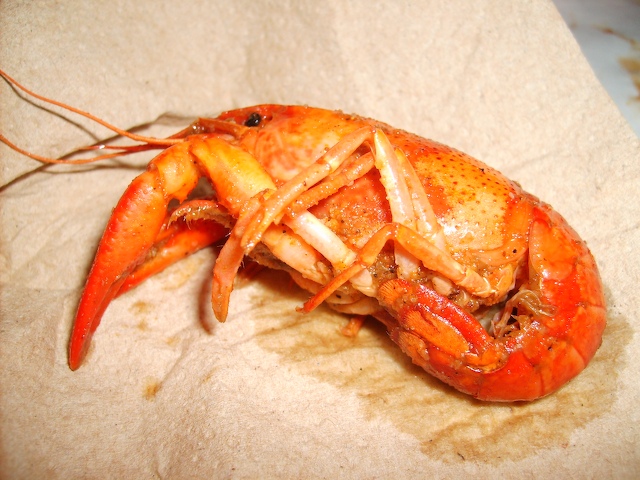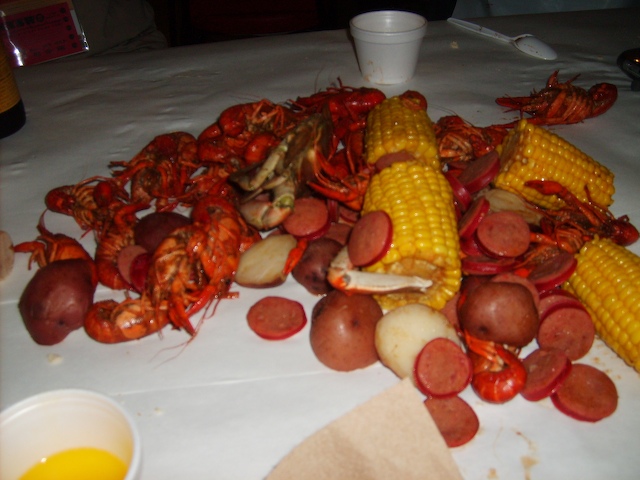 Our food I have some more photos, but I'm only going to do a few a day until I can get home and have the time to go through them all.
Saturday, March 10th
8:43am - At the Double Tree Room 609: - Woke up fairly refreshed this morning. Definitely need some breakfast and a coffee before heading to SXSW. Anyone having breakfast anywhere?
10:15am - @ SXSW 2nd floor - Room 12AB: - In the Video is worth more than 1,000 words panel. Going over some of the trends, some of the history, and some of the future of social video.
11:13am - @ SXSW 2nd floor - on the floor: - Panel is over. Met Chris from Adobe. Still can just barely get the internet. Port 80 sucks.
11:56am - @ SXSW 2nd floor - Room 19AB with Jeremy Keith and Andy Budd: - Just published my interview with David Seah on the Viddler blog.
7:10pm - @ Logan's on the Sixth: - Ate some dinner, talked to my brother-in-law on video chat for the first time. Having a Logan's Lemonade, very good. More video on Viddler coming soon! Stayed tuned.
8:05pm - @ Double Tree, 15th Street, Room 609: - Dumping photos, video to our hard drives. Checking a few things, getting a shower, short nap - then off to see the Ze Frank BuzzFeed party, then to the Virb party till 4am supposedly? Should be fun, we'll shoot video.
9:15pm - @ Double Tree, 15th Street, Room 609: - Just posted our Saturday lunch update, and our Saturday night update to our Viddler blog. Here are some photos from today.
Alex
Chris and Rob
Lunch update
Tag, You're It
Overlooking Austin
Free beer w/ Zach
Saturday, March 10th, Gallery
4:14am - @ Double Tree, 15th Street, Room 609, after the Ze Frank party: - Ze Frank, BuzzFeed and another company threw a party at the Molotov Lounge. It was pretty good, Ze did a funny bit on airplane safety (which will be on Viddler later). Then there was free drinks for a few hours. Thanks to all the sponsors, it was a cool place to hang for a bit.
Here are some photos of the people I met at Ze's little bash.
Ze's Party Gallery
It was really great to finally meet everyone. It kinda makes me wish we all could do this every month if for no other reason than to bounce ideas off one another and chat about the stuff we love. The world is such a small place, thanks to the Internet, yet it remains so large that I feel as if I am going to lose "contact" with everyone the moment I leave South by Southwest. We'll see.... I guess I can still Twitter spam for Adam.
10:58am - @ Double Tree, 15th Street, Room 609: - Stayed up until 7am playing around with something "special". Alex and I will put some polish on it today/tonight and release it. It is the culmination of the brain power of myself, Rob Sandie, Adam Michela, Peter Flaschner, and several other contributors. Should be fun.
Now I have to get over to the conference center so that I can show up fashionably late to the second panel of the day after finding some coffee and a muffin or something.
1:14pm - @ PF Chang's for lunch: - Spent most of the morning getting things prepared for the rest of the day. Had a great discussion with Molly about some of the stuff she's able to accomplish with Microsoft, I definitely wish her all the best with everything professional and otherwise.
Now we're eating and planning the rest of our day.
4:50pm - @ SXSW Ballroom F: - Waiting for the next panel to start, so I might as well fill you in. (I won't have time for many links or photos so I will update this from the hotel later). I finally was able to meet up with Irina Slutsky to do The Vloggies Show (which is a new show she is doing so be sure to stay tuned as it will air this week). Spoke to a guy from Microsoft about Expression Web... he said there was a lot of things going on in the pipe and that the initial release is only the beginning. Being an ex-Frontpage 98 user, I hope they are able to build something that is relatively solid for their audience.
Allen Stern of CenterNetworks.com asked what the little black guy was in the big bag you get here at South by Southwest. I figured it out. If you go to the exhibit hall, find Vital Stream's booth, you can throw it at a dart-like board and win a shirt. I got a bulls-eye on the first try and won a shirt.
We only were able to attend one or two panels so far today, and hopefully tonight we'll be able to see Morgan Spurlocks doc "What would Jesus Buy".
11:28pm - @ Hilton Lobby: - Just had a nice conversation with Irina and two guys that did not give me their cards because they had run out of them (if you are reading this, email me your contact information). Talking about ad networks and how to display ads based on content within a video on Viddler rather than just the content on the page. Pretty cool stuff.
We're sending all of our HD video that we've captured to a professional video editor, so I am excited to get all of that back and have it up on the Viddler blog soon enough. If anyone would like to do an interview, or has not signed my shirt, please grab me. I'm hoping to have content being published regularly over the next few weeks.
3:00am - @ Double Tree, Room 609: - After hanging in the Hilton's lobby for a few hours I heard through Twitter that the 9rules crew was hanging out in the bar. I ran over, had a drink with Molly (thanks for the shot Molly), Paul Scrivens, Mike Rundle, and Mike's fiancé Eleni.
Back to work though as we headed for our hotel and I featured a video that was taken during one of the panels here. Rob and I managed to record many of the panels we went to, and we're hoping to get that video up slowly over the next few days. We have someone helping us with that too, which is great - because Rob and I are stretched pretty thin.
Even though I am starving, I am going to head to bed and see if I can't get up on time tomorrow.
10:22am - @ Double Tree, Room 609: - Awake. Slept in a little, somehow our wake-up call never happened. Today will be another busy day. I didn't have the chance, nor the energy, to go through all of my photos from yesterday and get them posted, but I will try to do that if there is any downtime during the day.
Remember, if I "know" you, but I have not met you yet, please make it a point to run over to me. I'd like to meet everyone at this opportunity. I'll be the blonde guy in the Viddler tshirt.
2:46pm - @ SXSW Room 12AB: - Just ate lunch at the Spaghetti Warehouse for a discussion about OpenID. Very interesting stuff and I am definitely going to recommend that Viddler make it part of their development roadmap. For anyone that has not looked into OpenID be sure to do so, especially if you'd like to be prepared for the future of online, cross service, authentication.
On my way back from the lunch, I saw Paul Nixon running and we both said I should have been running with him. Damn him and his Nike package and the motivation to run while in the Texas heat.
Right now I'm in an interesting panel about whether or not User Generated video is considered film or not. Sounds really niche, and it definitely is, but it is also incredibly interesting as a discussion topic - and I never ever thought it would be.
Robert Scoble
10:33am - @ Double Tree, Room 609: - Good morning! Sorry that I haven't updated since early afternoon yesterday but things went a little hectic there. After watching Luke W's panel on the various interface libraries (which was absolutely packed and should have been much longer), I needed to be outside in front of the convention center to go to The Salt Lick, which is a BBQ pit about 45 minutes outside of Austin, with Robert Scoble, Chris Aarons, Sarah Beck, and Patrick Nichols of AMD, an extremely nice gentlemen from AT&T's Web department, and Jim Posner from IBM who was in Apocolpse Now (more on all of this later).
After that I headed to the Great British Booze up, which was just about ending at the time. I hooked up with the entire Forty Media crew (there is a lot of them), and went to the next party where I ended up spending most of my time talking to Larry Halff about all things Ma.gnolia and Ruby on Rails. It was a great discussion and having never used Ma.gnolia - I can say that it seems like a service I should have been using for years. I'm going to give it a try the moment I can find some free time with wifi (aka: when I get home).
So now I gotta hop in the shower because Rob and I are going to do a Lunch Meet.
2:03pm - @ In the Hilton Ballroom, 6th Floor, for Will Wright's keynote: - Our lunch meet got postponed by a few hours. Hard to get everyone in one place at the same time. So Rob and I are recording the Will Wright keynote. I am definitely looking forward to seeing a demo of Spore.
10:44am - @ Double Tree, Room 609: - The demo of SPORE was really awesome. Will Wright's keynote alone was very good, but the demo just tops it off that Will actually does what he feels.
I have a ton to more write about. I've kept this "live blog" as up-to-date as I could considering the circumstances with time, internet connectivity, etc. So instead of writing a huge wrap up to what is already one of my longest posts ever, I will be writing single entries that highlight very specific panels, discussions, lunches, and parties after I get back home to Pennsylvania.
As a short overview of what happened since yesterday's keynote - We recorded one or two more panels, went to Logan's again for dinner, then hit up the VIP at the Media Temple party.
After that it was a bunch of sad goodbyes, as most of us know that we'll only be in contact virtually for awhile... but overall the experience was good.
Thanks to all that kept up with me over the conference. Those that came over to say hi, those that signed my shirt, those whom I met for the very first time, and those that I will be friends with for a long time to come.
Sorry to any of you that were looking for me, or didn't have a chance to talk to me for whatever reason... send me an email and maybe we'll get together sometime.
Stay subscribed, a ton of stuff to come.